Liquid Handling for Genotyping
Lower Costs, Increase Throughput and Significantly Improve Data Quality
Echo Liquid Handlers use non-contact acoustic liquid transfer technology to enable miniaturization of genotyping assays in 384- and 1536-well format. The tip-less technology of the Echo makes it a perfect solution for genotyping in any mid- to high-throughput lab.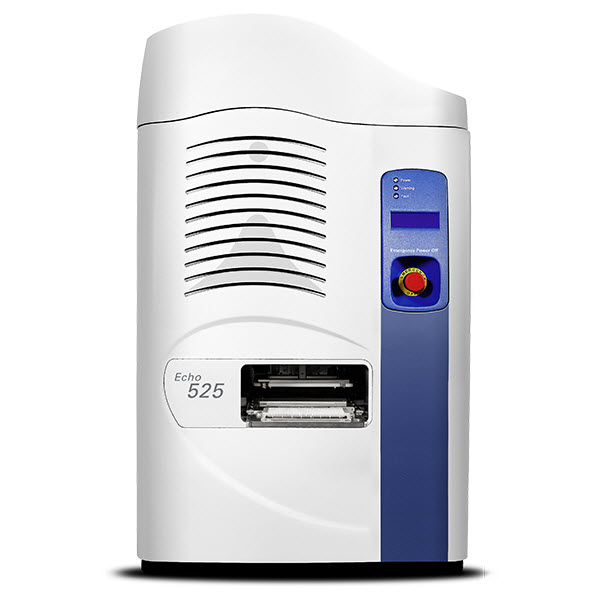 Common genotyping methods tend to be characterized by relatively slow throughput and data variability. Lowering the genotyping reaction volumes is a way used to reduce the reacion costs for the genotyping applications. Tip-less, touch-less and acoustic-based transfers with the Echo liquid handlers greatly simplifies assay development efforts and reduces costs for genotyping. Precise and accurate drop placement minimizes the chances of cross-contamination and makes it possible to transfer liquids from any well of a source plate to any well of a 96-, 384- or 1536-well destination plate.
Key Benefits
Significant cost savings over traditional and chip-based microfluidics approaches
A great fit to any laboratory due to being compatible with any chemistry and detection techniques
Significant reduction of assay development iterations with multiplexed PCR conditions
Fast and low-volume reaction setups in sub-microliter volumes, while maintaining/improving data quality1
Access Systems for a High-Throughput and Walk-Away Solution
To expand these benefits even further, the Access Laboratory Workstation and Access Systems incorporate the Echo Liquid Handler into a turnkey, automated solution for high throughput genotyping studies.
Genomic Reagents Portfolio
Our reagents are powered by Solid Phase Reversible Immobilization or
SPRI technology
, which uses SPRI paramagnetic beads to selectively bind nucleic acids by size. It's ideal for nucleic acid extraction from cells, tissue, blood and even challenging formalin-fixed, paraffin-embedded (FFPE) samples.
1. J Lab Autom. 2016 Feb;21(1):37-48