High-Throughput Screen (HTS)
Improved results with acoustic dispensing and direct dilution
Discover the Right Drugs with Improved Transfer Performance and High-Throughput Screening
Many scientific publications have shown that discoveries made using the Echo Liquid Handler would have been impossible with traditional serial dilution methods — thanks in part to direct dilution and using acoustic dispensing.
Highly Accurate Data and Volume Tracking
Our patented DMSO concentration monitoring helps ensure accurate data tracking, while the Echo liquid handler provides volume tracking and the advantages of touchless dispensing for all assay components. Coupled with Access Workstations, DMSO concentration monitoring delivers a high level of productivity.
Key Benefits
Retention of promising leads through touchless dispensing and direct dilution
Dependable dispensing of all assay components, without user intervention
Seamless automation of acoustic dispensing workflows optimizing for high throughput
Case Studies
AstraZeneca — 259x More Potent
AstraZeneca demonstrated better compound potency when transferring directly with an Echo Liquid Handler instead of a serial dilution process1.
| | | |
| --- | --- | --- |
| Compound Number | Echo Liquid Handler | Traditional Liquid Handler |
| 4 | 0.003 | 0.146 |
| 5 | 0.002 | 0.553 |
| 6 | 0.007 | 0.973 |
| 7 | 0.003 | 0.778 |
| 8 | 0.004 | 0.445 |
| 9 | 0.052 | 0.170 |
| 10 | 0.064 | 0.817 |
| 11 | 0.486 | 3.03 |
A recent patent filing by AstraZeneca indicated the Echo Liquid Handler and its direct dilution process were critical to the discovery of its patented therapy. The filing includes data that shows a multiple order of magnitude difference in IC50 results when compared to traditional methods. Without the Echo Liquid Handler, these therapies may have been missed. What therapies could you be missing? Read the patent filing for more details.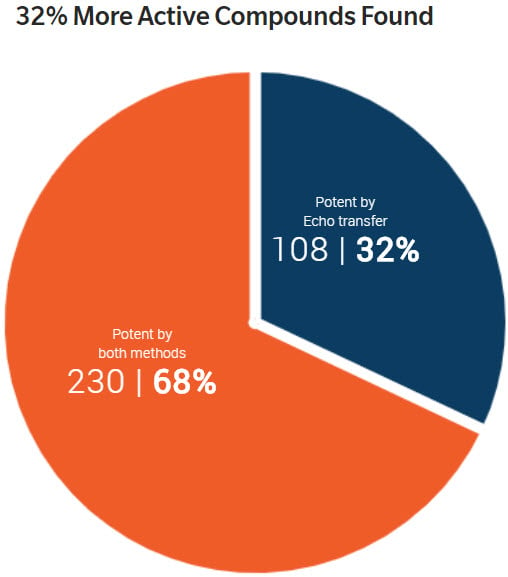 In a screen of 975 compounds, Bristol-Myers Squibb found 108 more hits when using the Echo Liquid Handler2. Bristol-Myers Squibb demonstrated fewer false negatives in IC50 assays prepared using the Echo Liquid Handler vs. traditional aqueous serial dilutions. The results revealed 110 compounds that showed significant activity when diluted using the Echo platform. They would have been eliminated as ineffective when diluted using traditional serial dilution. Closer examination revealed that false negatives are often caused by the loss of hydrophobic compounds adhering to pipette tips and dilution vessels. Without an Echo Liquid Handler, you may be missing your best leads.
1 Barlaam, B.C. et al., U.S. Patent 7,718,653, 2010.
2 Spicer, T. et al., Presentation at Drug Discovery Technology, Boston, MA, August 2005.