Biomek NGeniuS Next Generation Library Prep System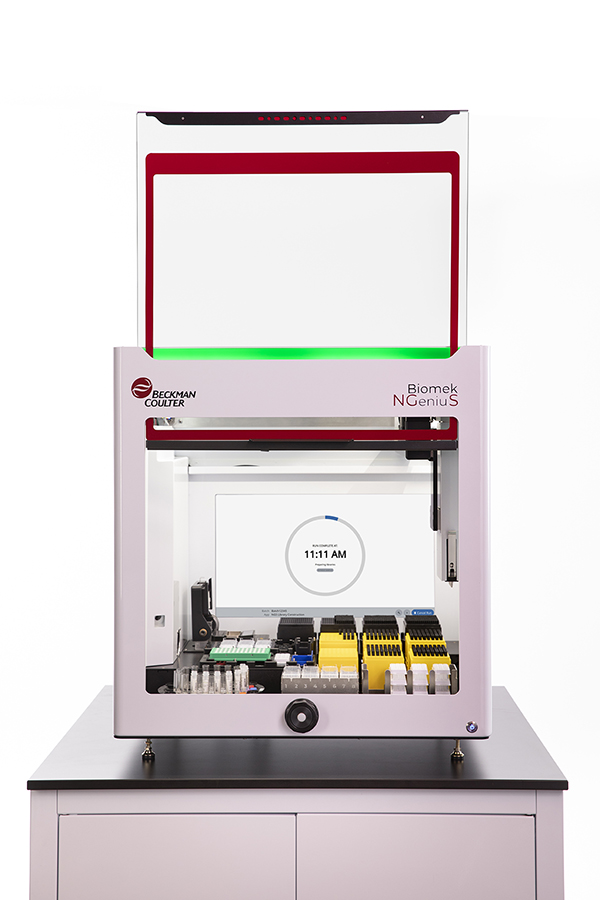 Introducing Biomek NGeniuS Next Generation Library Prep System
A flexible, easy-to-use liquid handler for NGS library preparation
Increase walk-away time
Processes up to 24 samples at a time
Diverse menu of demonstrated applications
Automated NGS Workstation
A simple, easy-to-use, purpose-built liquid handler for NGS library preparation. Biomek NGeniuS is ideal for laboratories requiring flexibility and less hands-on time. The user-friendly interface requires no programing skills.
Reduces errors with Dynamic DeckOptix for guided labware placement and confirmation
Increase walk-away time with an integrated thermal cycler, labware transport and reagent aliquoting
Batch setup and system monitoring virtually anywhere from a Google Chrome or Microsoft Edge enabled computer using the Biomek NGeniuS portal
Plug-and-play implementation in your lab with an array of library preparation kits from multiple vendors
Reduce Errors
Biomek NGeniuS virtually eliminates loading errors by combining the optical analytics of Dynamic DeckOptix and the user-friendly head-up display guiding users with real-time feedback on labware placement, ensuring correct deck loading, before automatically advancing to the next step.
Have confidence in the setup while Dynamic DeckOptix labware and reagent identification checks for capped reagent vials, incorrect sample input reaction vessels, misplaced or un-removed plate covers, and missing thermal cycling pads.
Minimize Hands-On Time
Reduce the need to manually transfer reagents and automate most manual chemistry kits by loading reagents directly onto the reagent carousel
Protect reagents from thermal degradation with temperature-controlled reagent storage allowing you to run end-to-end chemistries
Extend walk-away time with integrated thermal cycler and labware transport
Ensure the right tip for the right volume without manual intervention with Selective Tip Type to utilize both 96 and 384 configured tips
Easy to Use
Work-from-anywhere batch setup and system monitoring with the Biomek NGeniuS Portal software using a Google Chrome or Microsoft Edge enabled computer.
No programing skills required for batch setup—simply name the batch, select the number of samples, from 4 to 24, make any necessary settings adjustments, select stop points—compatible with the method—that fits your schedule, upload your sample information, and you're ready to go.
Save time and effort by downloading a batch specific Work Aid to generate a simple check list which includes the reagents needed for the run, and instructions on how to prepare and load reagents and consumables.
Turn and select on the system using the Software Navigation Dial to select the batch and you are ready to run
Monitor the system status with 360° line of sight from the multicolor status light. If you are not in sight of your instrument, remotely monitor the system through the Biomek NGeniuS Portal using a Google Chrome or Microsoft Edge enabled computer.
Flexibility
Run the samples you have on hand now. Biomek NGeniuS can run any number of samples from 4-24, while minimizing reagent waste and providing the turnaround time needed for your lab
Complimentary demonstrated application library is designed to evolve with your changing needs.
Set-up and run multiple instruments from your Biomek NGeniuS Portal with network enabled scalability
The Biomek NGeniuS Next Generation Library Prep System is not intended or validated for use in the diagnosis of disease or other conditions. In development, performance characteristics have not been validated.

© 2022 Beckman Coulter, Inc. All rights reserved. Beckman Coulter, the stylized logo, and the Beckman Coulter product and service marks mentioned herein, including Biomek and Biomek NGeniuS, are trademarks or registered trademarks of Beckman Coulter, Inc. in the United States and other countries. All other trademarks are the property of their respective owners.
Explore the 3D Experience
Review the new Biomek NGeniuS portal software and monitoring
Interact with the new Reagent Carousel
Learn about instrument features
Run a batch
Explore in 360º