Dynamic Rotor Inertia Check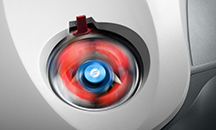 Dynamic Rotor Inertia Check (DRIC) is a software and hardware system utilized by all Beckman Coulter ultracentrifuges to check for rotor failure.
The DRIC system works as the rotor is accelerated. It monitors the power required to spin the rotor during acceleration. If the system notices that more power is being used than the specified rotor should require, it stops the centrifuge run and notifies the user.
The DRIC ensures that the centrifuge is able to contain the rotor and samples in the case of a failure. Sophisticated software measures various parameters such as energy and inertia values. The software calculates the parameters of energy and inertia used by the rotor and compares that with the parameters of the rotor that is detected by the overspeed disc. If there is a discrepancy, the instrument stops the run with braking to avoid possible damage and sends a diagnostic message to alert you to this condition.