What's the difference between sterile & Certified Free consumables, and what purity grade do I need?

Protecting your sample from degradation and contamination throughout the workflow is critical to consistently achieving a highquality final product. Because every workflow and product is different, with differing requirements for various purity grades, it's important to select consumables supporting these needs. Sterile and Certified Free* consumables from Beckman Coulter are available to meet these varying needs.
Sterile vs. Certified Free
Sterile – Absent of Living Organisms
Sterility is defined as an aseptic state where living organisms, such as bacteria and fungi, do not exist. Beckman sterile consumables are sterilized with a validated sterilization process using gamma irradiation or ethylene oxide. Sterilization procedures such as these and autoclaving eliminate viable organisms, though nonviable contaminants may remain.
Certified Free – Free of Nonviable Biologics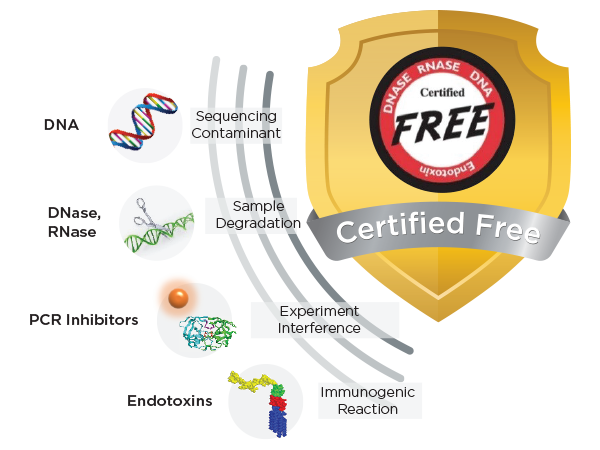 Certified Free consumables exhibit no detectable DNA, DNase, RNase, PCR inhibitors, or endotoxins. These nonviable contaminants are not removed via standard sterilization procedures, such as autoclaving, and the absence of such contaminants is critical for a variety of applications from nucleic acid sequencing to gene therapy.
Determining the Necessary Purity Grade
Each application and workflow is unique, with varying requirements for the presence of viable and nonviable biologic materials. Accordingly, samples may require consumables verified as sterile, Certified Free, or both. Choosing the right tube, bottle, or liner provides your sample or experiment the best possible outcome.
Summary
Selecting the appropriate consumable purity grade is an important step in maintaining the integrity of your product, and Beckman Coulter offers a variety of sterile and Certified Free consumables designed to protect your samples.
*Based on sample results below detectable limit