AMPure XP Reagent Performance and Data
AMPure XP Manual or Automated Purification & Cleanup
Nucleic acid purification and cleanup are mandatory for genomic applications including sequencing, qPCR/ddPCR/PCR, microarrays and other enzymatic reactions. Maximizing recovery, consistency, and speed to facilitate the entire NGS workflow, AMPure XP is optimized to meet the stringent needs of today's genomic applications and to minimize the risk of losing important genetic information.
High recovery of amplicons, greater than 100 bp
Efficient removal of unincorporated dNTPs, primers, primer dimers, salts and other contaminants
Predictable and consistent size selection
NGS Experts Choose AMPure XP
Only AMPure XP provides predictable performance while maintaining efficient recovery proven by the relative difference between the reference and 1.8x ratio in the traces below.
Agilent TapeStation traces of sheared gDNA purified using Ampure XP, Reagent "O", and Reagent "K". Cleanups were performed using 1.8x (red), 0.9x (blue), 0.7x (green), and 0.6x (aqua) reagent to sample ratios as shown. Traces show relative differences in peak height and recovery efficiency. Note the most common ratio used for NGS library cleanup is 1.8x.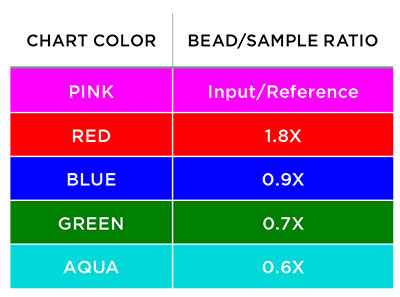 Visual Workflow

Automation vs. Manual Timing
AMPure XP is a flexible reagent suitable for manual or automated workflows. Below is estimated hands-on time and total time, in minutes, for AMPure XP.
Scalable based on throughput
Quick transition with ready-to-implement methods
Knowledgeable support for reagents, automation and methods all from a single vendor
AMPure XP
Manual
Automated
Batch Size
48
Hands-on Time
25
5
Total Time
25
22
96
Hands-on Time
30
5
Total Time
30
22
4 x 96
Hands-on Time
NR
10
Total Time
NR
45
AMPure XP Part Numbers and Kit Sizes
| PART # | NAME | PREPS |
| --- | --- | --- |
| A63880 | AMPure XP, 5 mL | 5 mL |
| A63881 | AMPure XP, 60 mL | 60 mL |
| A63882 | AMPure XP, 450 mL | 450 mL |
Not intended or validated for use in the diagnosis of disease or other conditions.
Beckman Coulter, the stylized logo, and the Beckman Coulter product and service marks mentioned herein are trademarks or registered trademarks of Beckman Coulter, Inc. in the United States and other countries. All other trademarks are the property of their respective owners.