Cell Therapy Process Development
Introduction
Cell therapies are an area of interest for development of advanced therapies. The potential for quick engineering of genetically modified immune cells for treatment of disease is so far unrealized, as production and scaling of cell therapies carry unique challenges for each potential cell therapy. Cells must be reliably scaled and grown in media without losing expression of a transduced genetic element. Process development of cell therapies is costly and takes extensive hands-on time. It requires strict quality control and repeated analyses of cell phenotype and health, count and culture media.
Cell manipulation and expansion solutions from Cytiva complement solutions for gathering valuable analytical data from Beckman Coulter Life Sciences instruments. Combine the expertise of both companies for a complete solution that provides a comprehensive process development workflow.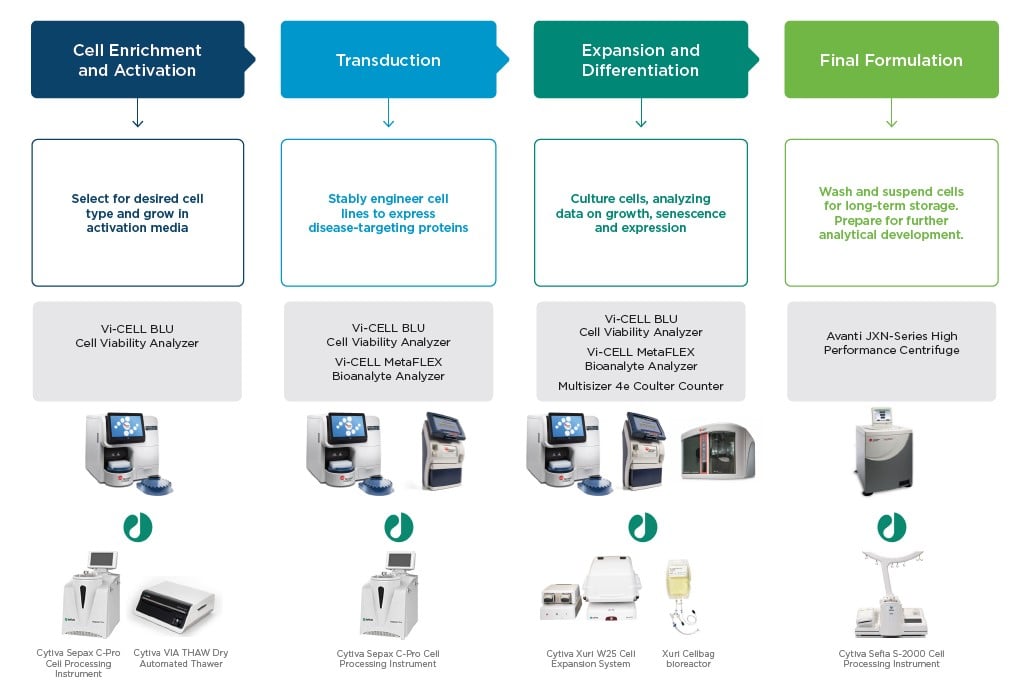 Separation
Cells banked from normal healthy donors are thawed. Retaining cell viability with a gentle, stepwise thaw scheme is important for beginning the process. Cells from a donor may still be a heterogeneous mixture, suspended in whole blood or serum. Often, a specific cell type (e.g., T Cells) will be desired for process development. Cells must be separated from cold-temperature storage medium without compromising cellular integrity. Use of an automated separation and washing procedure will increase the likelihood of gentle sample handling and minimize concerns of contamination to cell cultures. Quickly check viability and count thawed cells with a hands-off cell viability analyzer.
Products for consideration: Cytiva VIA ThawTM Automated Dry Thawer, SepaxTM C-Pro Cell Processing Instrument, Beckman Coulter Vi-CELL BLU Cell Viability Analyzer
Activation and Genetic Modification
To unlock the potential of cell therapies, cells must be activated and genetically modified. Activation stimulates cells back into the cell cycle after being frozen, and reinitiates innate immune activity. Cells are genetically modified to express an antigen to disease. For example, T cells carrying a chimeric antigen receptor (CAR-T) are a type of cell therapy the FDA recently approved for treating certain cancer phenotypes.
Traditionally, viral vectors are modified and used to stably transduce DNA for a chimeric antigen receptor. Simple incubations of a cell with a viral vector offer low yields of successfully transduced cells. Protocols such as SpinOculation1 offer efficient transductions with high success rates, while being less labor intensive than a traditional transduction method.2 Post-transduction metabolite analyses and cell viability metrics are important for monitoring transduction success.
Products for consideration: Cytiva SepaxTM C-Pro Cell Processing Instrument, Beckman Coulter Vi-CELL BLU Cell Viability Analyzer, Vi-CELL MetaFLEX Bioanalyte Analyzer
Expansion
Cells are grown in media after being transduced and activated. Culture expansion can take up to many weeks and requires consistent and frequent manipulation for data gathering and analysis. Despite seeming straightforward, expansion is a critical period for process development; tracing and recording what is happening inside cultures is required for success. Cell counting and viability measurements (e.g., trypan blue or fluorescent stains) can be inaccurate and time consuming if done by hand; however, automating these will save time and facilitate consistency in results and supports data compliance with 21 CFR Part 11 requirements.
Analyzing cellular phenotype and developing methods to confirm maintenance of chimeric receptors in your cell line is important, but often a major pain point to cell therapy development workflows. Find out more about simplifying development and execution of this critical, but difficult analysis method using flow cytometry.
Products: Cytiva Xuri™ W25 Cell Expansion System, Beckman Coulter Vi-CELL BLU Cell Viability Analyzer, Vi-CELL MetaFLEX Bioanalyte Analyzer and CytoFLEX flow cytometer
Fill/Finish
After culture expansion is determined to be successful, therapies are packaged in a final suspension. Cells are separated from media, washed, and suspended in a formulation for storage. This formulation must be flexible enough to maintain cells through freeze and thaw cycles without allowing clumping or cell death, while consistently being easy to manipulate. Cell therapies are frozen for storage and evaluation of shelf life. Gradual and efficient freezing is important for future viability and an extended shelf life.
Products: Cytiva VIA FreezeTM Controlled-rate Freezer, SefiaTM S-2000 Cell Processing Instrument, Beckman Coulter Avanti JXN-series High Performance Centrifuge
Conclusion
Cell therapy process development is difficult. It is expensive to expand cell therapies and requires frequent hands-on manipulation from technicians, creating possibilities for contamination.
Cells that make it through process development without being sufficiently optimized may be therapeutically ineffective.
Cells must be transduced with a chimeric antigen in an efficient way that preserves cell viability and maintains this receptor while being scaled up.
Finishing process development requires identifying ideal finishing suspension composition for storing cells long-term.
Beckman Life Sciences Instruments
Cytiva Instruments
References
SpinOculation C-Pro Protocol Software for Sepax C-Pro Cell Processing System. ©2020 Cytiva Life Sciences
Remley et al 2021. High efficiency closed-system gene transfer using automated spinoculation. Journal of Translational Medicine.
Cytiva and the Drop logo are trademarks of Global Life Sciences IP Holdco LLC or an affiliate doing business as Cytiva. (c) 2022 Cytiva. For local office contact information, visit cytiva.com/contact.