Leveraging the Vi-CELL MetaFLEX for Monitoring Cell Metabolic Activity
Introduction
The link between cell metabolic activity and glucose and lactate levels in the surrounding cell media is an established fact
1,2
. However, reproducibly detecting these relatively small changes in the media is difficult to achieve. In collaboration with the IRCCS-Istituto di Ricerche Farmacologioche Mario Negri (IRFMN) in Milan, we explored the suitability of our cell media analyser for detecting small changes in metabolic activity in different cell types and experimental settings to give early indication of experiment outcome. This application note presents how our media analyzer
Vi-CELL MetaFLEX
was tested and the potential benefits for accelerating metabolic rewiring research.
Current experiment practices

The study of cell metabolism has grown exponentially over the past decade. Cells constantly adjust the flow of molecules through metabolic pathways in response to energy needs. Cancer cells increase glucose utilization to support their proliferation, as well as astrocytes and neurons operate to ensure adequate metabolic adaptation to maintain neuronal activity. Thus, glycolysis and other metabolic pathways that control cell proliferation may represent valuable targets for therapeutic interventions and diagnostic procedures.
Quantum leaps in technology (e.g., in mass spectrometry as well as in high-resolution nuclear magnetic resonance [NMR] spectroscopy) are opening new horizons in the field of cancer metabolism based on their ability to explore several metabolic processes simultaneously (e.g. glycolysis as well as its offshoot pathways) and their interactions. These technological approaches are however complex and costly in terms of required equipment and data analyses. Important aspects ranging from sample collection and storage to data-processing have to be taken into consideration before starting any metabolomics study.
The possibility to quickly and reliably assess by simple techniques changes in glycolysis (i.e. glucose uptake and lactate production) as early metabolic indication of the experimental outcome might therefore represent a preliminary step that can determine whether the experiment is looking positive and further investigations are warranted. The ability to monitor real-time metabolic changes during cell culture without interfering with cell growth might definitely help in better designing the experiment. This sort of "triage" approach might also better focus the use of precious research projects' funding.
The challenges of measuring cell metabolic activity

For cells in culture, glycolytic flux can be quantified by measuring glucose uptake and lactate excretion. Monitoring such changes in extracellular media can be challenging due to dilution factors required to enable testing, etc. Typically the cell population in these experiments is small and minimal changes may also be masked by the relatively large volume of media in which cells are grown. The volume of media to be sampled for real-time monitoring should be minimal to avoid detrimental effect to the growth of the cells. For the same reason the collection of culture medium should be fast. The subsequent analysis of metabolites should be simple and quick avoiding sample preparation steps or storage that might introduce unintentional variability to the experiments.
Testing Vi-CELL MetaFLEX for monitoring metabolic activity

In order to find a suitable solution to quickly monitor changes in cell metabolic activity before moving to more sophisticated strategies, IRFMN approached Beckman Coulter to work together to investigate if the Vi-CELL MetaFLEX3 cell media analyser could be used to detect the tiny changes in media composition that could be linked to changes in cell metabolic activity.

The desired outcome from the testing was to establish that the MetaFLEX could:
Reproducibly detect small changes in glucose and lactate in the media
Capable of detecting across a wide range of experimental settings spanning from cells to mouse blood media used by IRFMN
Reproducibly produce results successfully on previously frozen experiment samples

The Vi-CELL MetaFLEX
The Vi-CELL MetaFLEX is a bioanalyte analyser that utilises thick film technology and miniaturised sensors to measure pH, pO2, pCO2, glucose, lactate, electrolytes and more parameters. All tests are carried out on just 65 μL of sample.


Testing results

The results presented in the following figures demonstrates the MetaFLEX's ability to meet the desired outcomes stated above.

Small changes in glucose, lactate and electrolytes were reproducibly detected in the media. The MetaFLEX showed a coefficient of variation less than 4% for each measured analyte (Figure 1.). The conditioned medium analyte levels were proportional to the number of cultured cells.

Figure 1. Glucose, Lactate and electrolyte concentration trends in conditioned culture media (RPMI, 10% FBS) of NCI-H1299 cells, 48h post seeding. Concentration trends were computed seeding three different cell dilutions (60*10-3, 120*10-3 and 240*10-3 number of cells). Total cell number were counted using the Beckman Coulter Multisizer 4e Coulter counter 48h post seeding. Data are expressed as cell number normalised mean ± SD (three biological experiment/condition). Courtesy of Brunelli L. & Caiola E.
The MetaFLEX detected changes in the level of glucose and lactate in vitro cell growth (Figure 2).


Figure 2. Breast cancer cell lines were grown in phenol red-free DMEM Dulbecco's modified Eagle's medium supplemented with 5% fetal calf serum, glutamine (2 mM) at 37°C in 5% CO2 atmosphere. Glucose and Lactate concentration in cell culture media at 18 and 72h post seeding (100.000 cell/ml) was detect. Courtesy of Paroni G.
The following figures (Figure 3-6) display the successful measurement of lactate and glucose across a wide range of experimental settings spanning from cell media to mouse blood.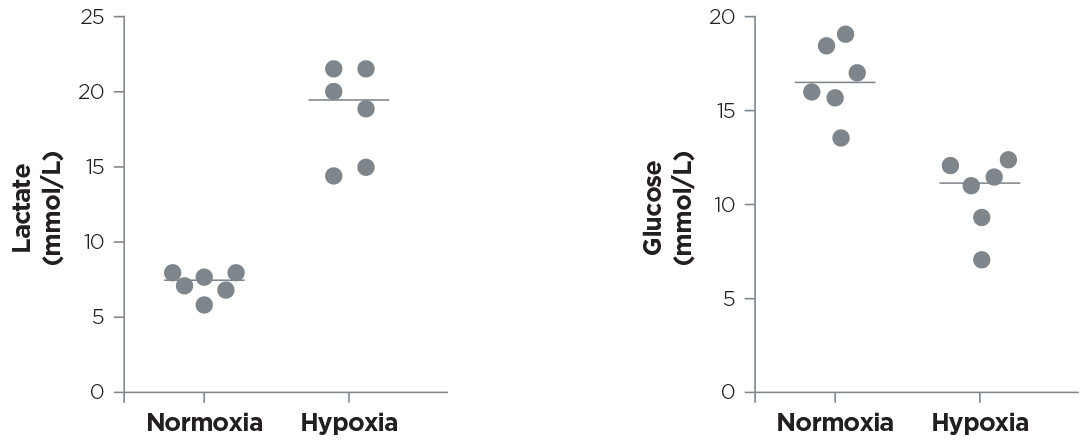 Figure 3. Ovarian cancer cells were cultured in DMEM high glucose +20ûS+1% glu e 1% p/s. Cells were exposed to normoxia (37°C and 20% O2) and hypoxia (37°C and 0.5% O2). Lactate and glucose concentrations were expressed as mmol/L. Courtesy of Decio A. & Ghilardi C.


Figure 4. LPS effects were evaluated in primary microglial cultures obtained from 13 days old (E13) mouse embryo spinal cord (for details see De Paola et al., 2012) and seeded on 24 well plates at a density of 40.000 cell/cm2 (media volume: 500 μL/well). LPS were added to the culture media on the 7th day in vitro (LPS treatment concentration: 1 μg/mL) for 24 hours. Collected conditioned media (DMEM/ F12 supplemented with FBS 10% v/v) were immediately analysed for the metabolic activity. 4 independent experiments (three replicates/ condition for each experiments). *** p <0.001 vs control condition (no treatment); unpaired t-test. Courtesy of Mariani A. & DePaola M.


Figure 5. Semiconfluent C2C12 myoblasts were differentiated in myotubes and cultured in DMEM low glucose (2% horse serum). At time 0, insulin (50nM) was added to the culture medium and at the indicated times glucose and lactate levels were recorded. Courtesy of Zito E. & Pozzer D.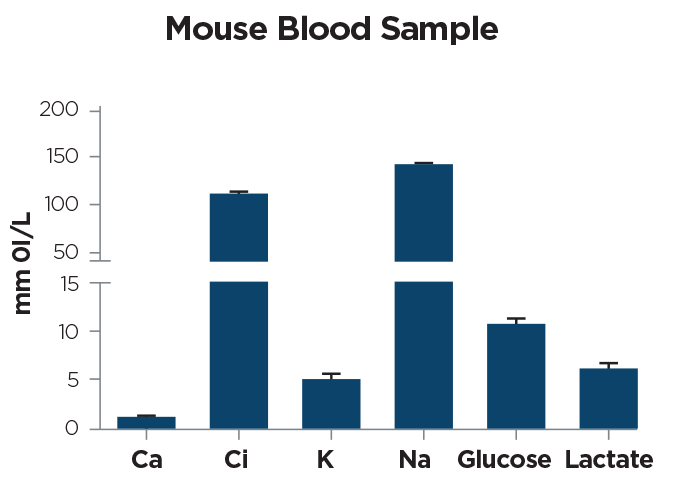 Figure 6. Electrolyte, glucose and lactate levels in mouse blood samples (65 microL). Data are expressed as mean ± SD (3 biological replicates). Courtesy of Ricci F.
Figure 7 shows the reproducibility of results from samples measured before freezing and post thaw.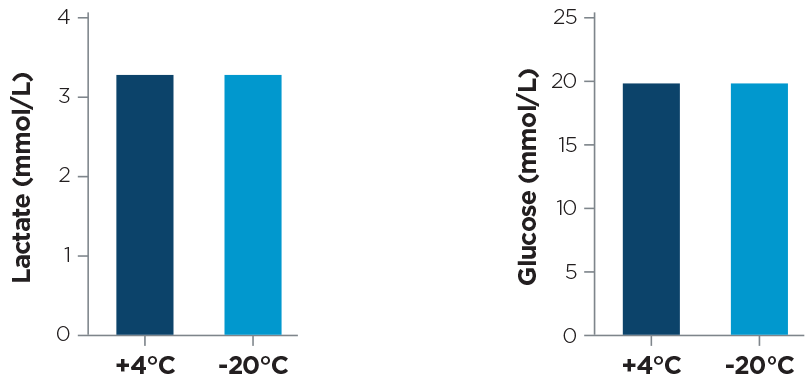 Figure 7. DMEM (Dulbecco's Modified Eagle Medium) High Glucose plus 20% FBS (final glucose concentration 20 mM) was conserved at +4°C or frozen at -20°C for 24 hours before measuring. Lactate and glucose concentrations were expressed as mmol/L. Courtesy of Decio A. and Ghilardi C.
Conclusion

The researchers at the IRFMN were able to utilize the Vi-CELL MetaFLEX to reliably detect changes in cell metabolic activity in their experiments through monitoring small shifts in the levels of glucose and lactate. The MetaFLEX allows the researchers to determine at an early stage of the experiments the metabolic alterations that underlie the experimental setting. Armed with this information, the researchers can reduce the number of experiments and focused on few important samples that can be further analysed by gold-standards metabolomics technologies (e.g. Mass Spectrometry, NMR) or molecular biology approaches for a more comprehensive assessment of metabolic alterations. Crucial to the success of this validation was the MetaFLEX ability to reliably detect very small changes in glucose and lactate. It achieved this because it uses thick-film sensor technology to make direct measurements of glucose and lactate from just a 100 μL sample (65 μL sample plus 35 μL tare).
About the IRCCS-IStituto di Ricerche Farmacologiche Mario Negri (http://www.marionegri.it)

The Mario Negri Institute for Pharmacological Research is a not-for-profit biomedical research organization. It was founded in 1961, and started work in Milan on 1 February 1963.

The Institute's main aim is to help defend human health and life. The Institute's research programs span from the molecular level to the whole human being, and the findings help build up the basis for developing new drugs, and making existing ones more effective.

The main research headings are the battle against cancer, nervous and mental illnesses, cardiovascular and kidney diseases, rare diseases and the toxic effects of environmental contaminants. The Institute is also involved in research on pain relief and drug addiction.

Parallel to its biomedical investigations, the Mario Negri Institute runs training schemes for laboratory technicians and graduate researchers. It takes part in a range of initiatives to communicate information in biomedicine, on a general level and with the specific aims of improving health care practice, and encouraging more rational use of drugs.
References
Warburg O. On the origin of cancer cells. Science. 1956;123(3191):309–314
DeBerardinis RJ, Lum JJ, Hatzivassiliou G, Thompson CB. The biology of cancer: Metabolic reprogramming fuels cell growth and proliferation. Cell Metabolism. 2008;7(1):11–20
Vi-CELL MetaFLEX is a brand name of Beckman Coulter Inc., Brea, USA
Multisizer is a brand name of Beckman Coulter Inc., Brea, USA