Evaluate AMPure XP

AMPure XP Purification & Cleanup. This Is The Gold Standard.
Nucleic acid purification and clean-up are mandatory for genomic applications including sequencing, qPCR/ddPCR/PCR, microarrays and other enzymatic reactions. Maximizing recovery, consistency, and speed to facilitate the entire NGS workflow, AMPure XP is optimized to meet the stringent needs of today's genomic applications and to minimize the risk of losing important genetic information.
High recovery of amplicons, greater than 100 bp
Efficient removal of unincorporated dNTPs, primers, primer dimers, salts and other contaminants
Predictable and consistent size selection

Fill Out the Form To Try a Sample of AMPure XP

Data Sheet: AMPure XP Reagent Kits
Download the brochure to learn more about the AMPure XP purification and cleanup reagent.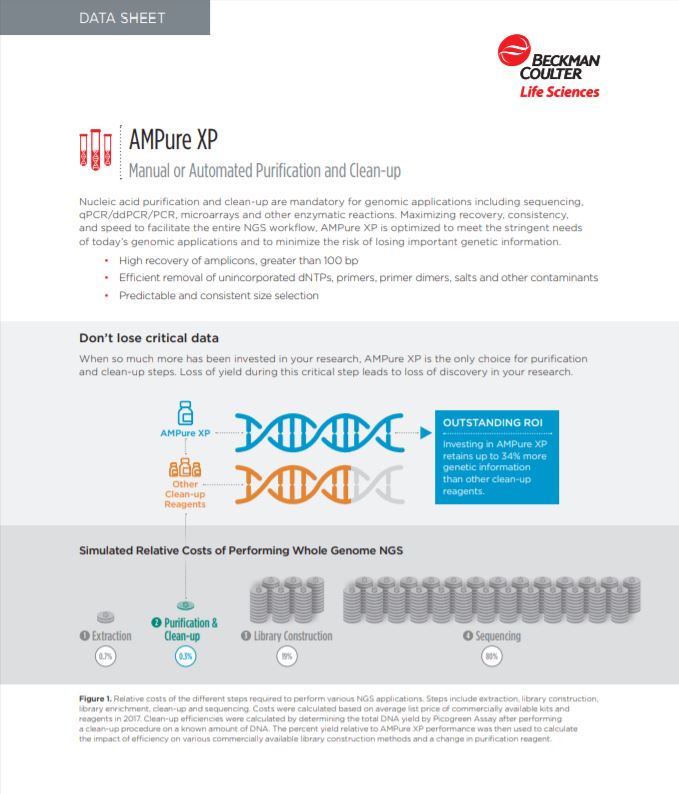 More Information on our Cleanup and Size Selection Portfolio