Integrated Solution for L&L* Immunophenotyping
The IVD ClearLLab 10C system is an integrated solution that covers lymphoid and myeloid lineages, offering all components needed from quality controls, sample preparation, dry antibody panels based on DURA Innovations technology to analysis software and training material.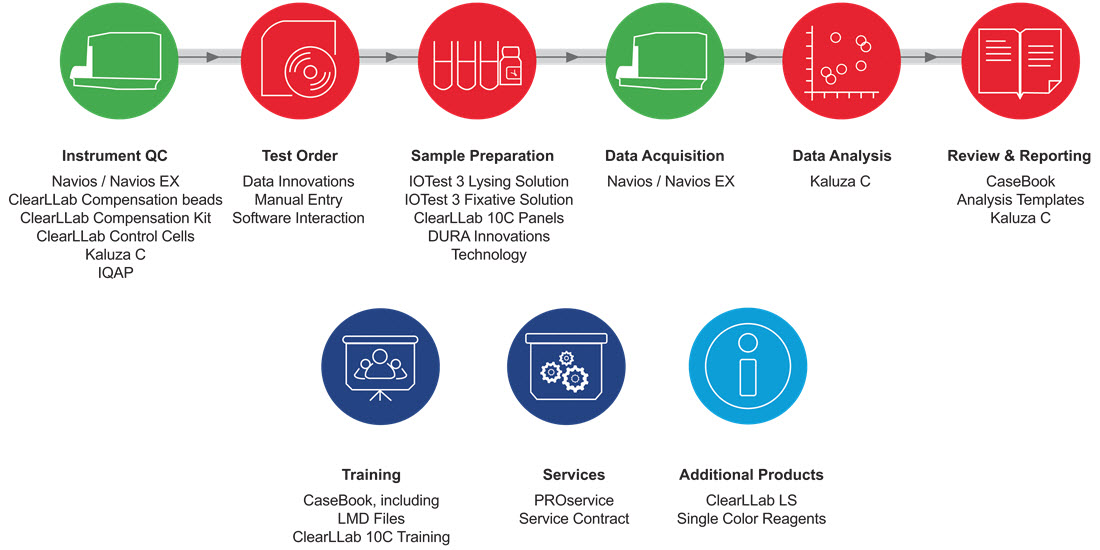 Instrument QC

The ClearLLab Control Cells are the first L&L application specific normal and abnormal IVD controls cells compatible for use with ClearLLab 10C Panels as a liquid preparation of stabilized human erythrocytes and leukocytes (lymphocytes, monocytes and granulocytes). The ClearLLab Compensation Beads and the ClearLLab Compensation Kit allow to reduce the regular compensation effort.

Our Interlaboratory Quality Assurance Program (IQAP) is a comprehensive, easy-to-use program to complement and enhance your laboratory's in-house quality control (QC) program. It's available globally to users of flow cytometry cell controls from Beckman Coulter Life Sciences.

Test Order

The Navios EX Software enables you to manage test orders, minimize manual data entry, track samples throughout the testing process, and eliminate transcription errors in the reporting process.

Sample Preparation

The four premixed, dry ClearLLab 10C panels can aid in the differential diagnosis of hematologically abnormal patients having or suspected of having hematopoietic neoplasms, such as chronic leukemia, acute leukemia, Non-Hodgkin lymphoma, myeloma, myelodysplastic syndrome (MDS), and/or myeloproliferative neoplasms (MPN).

Data Acquisition

With the 10-color capabilities of the Navios EX flow cytometer, you can collect additional data points from each sample, thereby reducing the number of samples to prepare. Compensation is simplified by the advanced compensation setup software for Navios EX software.

Data Analysis

Kaluza C software offers QC reports to help detect issues that can lead to inaccurate data analysis, to the option to add electronic approval signatures to reports, Kaluza C Data Analysis Software was designed to protect your data and your reputation.

Review & Reporting

The IVD ClearLLab 10C Panels which are FDA cleared and CE marked reduce the need for extensive validations and require only verification. ClearLLab 10C Panels provide standardized reporting based on WHO and Bethesda guidelines.

Training

The ClearLLab 10C casebook provides 24 patient case studies – and a step by step, illustrative guide to the complex flow cytometry patterns that serve as an aid in the diagnosis of leukemia and certain lymphomas, using the ClearLLab 10C System.

Service

Our Service department is continually invest in enhancing the critical resources needed to sustain a valuable and collaborative partnership that will minimize instrument downtime, maximize data integrity and protect your investment to optimize for your success throughout the entire lifetime of your instrument.

Additional Products

ClearLLab LS antibody panel was the first CE-IVD-marked 10-color assay for leukemia and lymphoma* analysis. Beckman Coulter Life Sciences offers the largest portfolio of single color CE-IVD and analyte-specific conjugated antibodies which is completely manufactured under Good Manufacturing Practices (GMP).

ClearLLab LS is only available outside of US.
*Non-Hodgkin lymphoma only