Remote Desktop Sharing with BeckmanConnect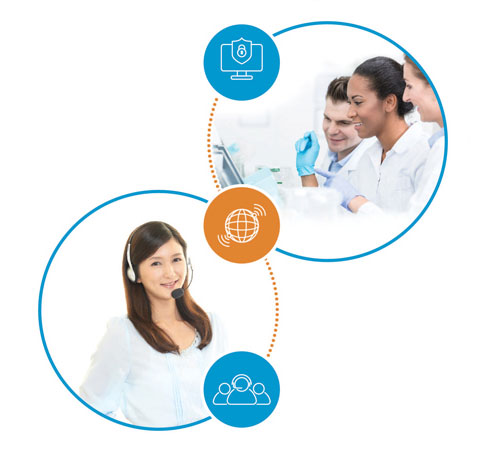 Help us see what YOU see -- immediately

BeckmanConnect was designed to maximize instrument uptime by minimizing your wait time for urgent service/support.

When a Beckman Coulter instrument is linked to BeckmanConnect, our highly trained service specialists can, at your request, get secure, real-time visibility to your system.*

That helps us quickly understand the issue and move toward a resolution—avoiding unnecessary wait time for an onsite visit.
Search BeckmanConnect in our FAQ Center to learn more.
*BeckmanConnect is currently available for the CytoFLEX series instruments and Biomek 4000, Biomek NX/NXp. Biomek FX/FXp, and Data Innovations Instrument Manager that have controller operating system Windows 7 or higher, and Biomek i-Series workstations, Vi-CELL BLU, Navios EX, Navios, Aquios CL, DxFLEX, CytoFLEX SRT, and CellMek SPS that have controller operating system Windows 10. We plan to expand access to other instruments in the future
BeckmanConnect is currently available in the following countries:
US, Canada, Austria, Belgium, Croatia, Czech Republic, Denmark, Estonia, Finland, France, Germany, Greece, Hungary, Ireland, Italy, Luxembourg, Monaco, Netherlands, Norway, Poland, Portugal, Slovakia, Spain, Sweden, Switzerland, United Kingdom, Australia, Japan, South Korea, India, French Polynesia, Guadaloupe, Reunion, Puerto Rico, Botswana, South Africa

Benefits
Efficiency
Secure workstation access & visibility
Real-time troubleshooting & resolutions
Seamless software upgrades, configurations & reloads
Improved system insights for faster onsite support
Productivity
Increased instrument uptime
Minimized workflow disruptions
Less operator time devoted to support calls
Reduced wait time for avoidable onsite visits
Security
Encrypted, permission-based communication controls
Secure sessions with expert Beckman Coulter support experts located within your geography
Policy configurations & customer approval required for each remote support session