Release Notes
CytExpert SRT 1.0.2.10002 Software Release Notes
(from version 1.0.0.10195)
New Features
Default Amplitude Setting
A new Default Amplitude Setting function is added under the Advanced menu.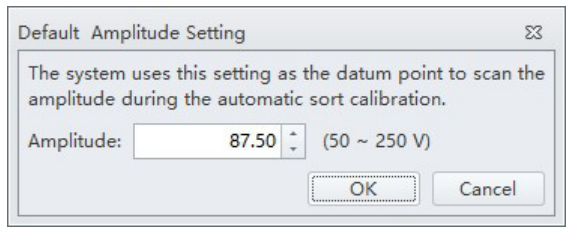 Users can modify this setting if the amplitude obtained after sort calibration is far from the original default setting.
By optimizing the setting, the start point of amplitude scan in sort calibration is changed to shorten the scanning time and find a better amplitude setting for the sorting.
Default Sort Mode Setting
Users can select the default sorting modes for tube and plate sorting in Sort Mode Library.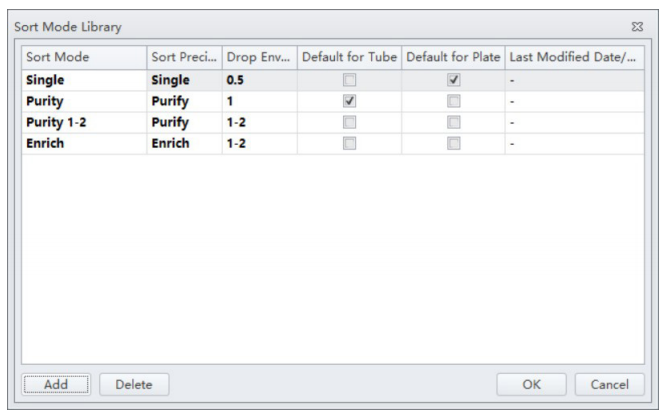 Improvements
Improved the voltage charging pulse of droplets of straight-down mode sorting to improve sorting accuracy
Optimized the display of the sort report for index sorting.
Improved the count down time displayed during sort calibration.
Optimized some operations of index sorting plot and sort mode library to make them aligned with the operations of other plots and library settings.
Added a vertical scroll bar in the QC report worksheet.
UI improvement to avoid some operation errors.
Bug Fixes
Sometimes sorting is not stopped automatically when the droplet maintenance is off.
Sort time display in sort status may not be correct when sorting is paused.
Drop delay calibration may not be accurate if the laser delay of blue laser is not set to zero.
The Unload button may not display correctly in some conditions.
Some system settings are not appropriate, which may cause unnecessary failures.
Correct text and display mistakes
Some buttons do not display or function correctly.
Request Additional Information