As you may know, Microsoft ended support for its Windows 7 operating system on January 14, 2020.
If you haven't upgraded to Windows 10 (Win 10), have you considered what a delay could mean for your lab?
Did you know:
Running outdated software in your lab leaves you vulnerable to a data breach, data loss or a system failure.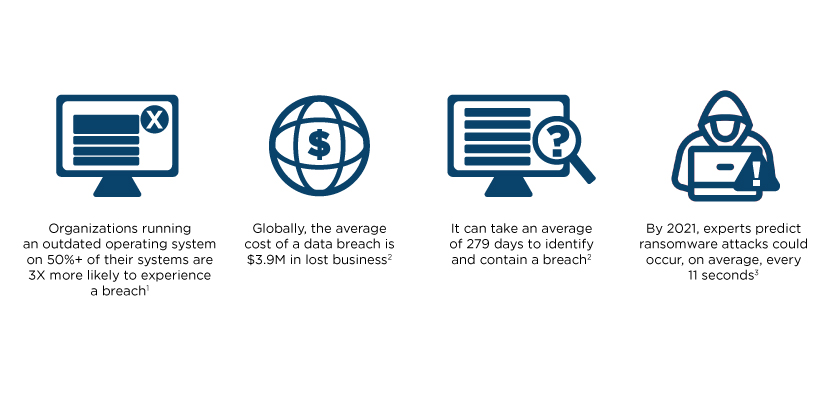 Delaying a Win 10 upgrade could not only put your lab's productivity at risk—but also your data integrity because only Win10 includes ongoing patches and security updates to keep you up-to-date.
Minimize downtime with your Win 10 migration—with our help
When you bring in our experts, expect minimal disruption during your upgrade.
During your Win 10 migration we'll make sure your system is operating at peak performance by including these services:
Software Verification: We'll upgrade you to the newest version of Win10 compatible software
System Verification: We'll ensure that your software and system are performing and operating correctly
Re-Qualification: If available, to help meet GxP requirements, we'll qualify that your system continues to operate to specification and provide documentation
Find out if your product is compatible with Win 10
Windows® is a registered trademark of Microsoft. Windows registered trademarks on this page are solely meant to refer to Microsoft's products in accordance with the terms of Microsoft guidelines.
Behind Breaches: Lots Of Outdated Software. digitalguardian.com. Accessed February 5, 2020.

What's New in the 2019 Cost of a Data Breach Report. securityintelligence.com. Accessed February 5, 2020.

Global Cybercrime Damages Predicted To Reach $6 Trillion Annually By 2021. cybersecurityventures.com. Accessed February 5, 2020.