Tierra Biosciences reveals major molecular discovery
Fast, complex and accurate cell-free TXTL, protein expression studies are streamlined with an Echo Acoustic Liquid Handler

In Spanish, tierra means earth, which is fitting because Tierra Biosciences considers the entire planet to be their #1 source for new, natural molecules with untapped potential.

This is not a new idea in the synthetic biology field, as the company's CEO Zachary Sun freely admits.

"Penicillin came from fungi, and statin drugs we use today were derived from bacteria," he says. "Before we entered this century, nature used to be a fruitful source of new products, but it seems to get much less attention today.

"There's a lot of biochemical diversity out there! Yet we routinely work with just 10 organisms, such as E. coli, our standard workhorse in biology. But there's lots of space that's not been explored."

One key to reviving interest in deriving new molecules from some of the estimated trillion organisms on our planet, according to Sun, is cell-free synthetic biology.

"This is a fundamentally different way of looking at engineering biology," he says. "It's faster than the typical labor- and time-consuming design-build-test approach using cells, which delivers one result—and if it doesn't work, you keep doing it over and over.

"In contrast, using cell-free systems is a much faster way to discover new molecules. By breaking down the cell wall, the cellular contents become, in essence, 'reagents' we can easily work with to give us hundreds of data points."
Cell-free systems are "data collection" models
Today, Tierra Biosciences has multiple cell-free systems representing the diversity of life, spanning gram-positive, gram-negative and eukaryotic species. Using the company's technology, scientists can easily vary elements of their experiments that are difficult to manage when using cells.
For example, different DNA variants of the input can be produced and expressed in parallel, and known additives to the system (e.g., cofactors or salts), can be supplemented.
The end product is not only a physical protein, but also multiple layers of rich and actionable data that informs the protein expression workflow.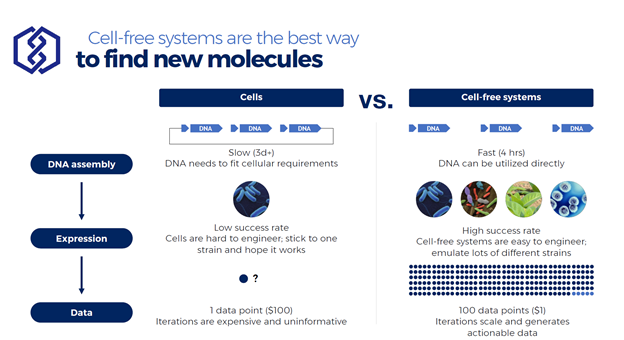 Using cell-free systems is a much faster way to discover new molecules. Cellular contents become, in essence, "reagents"' that can be used to provide hundreds of data points in relatively little time.
Discovering Echo Acoustic Liquid Handling technology
To help drive their research forward at maximum speed, one of the first purchases Tierra Biosciences made was an Echo 525 acoustic liquid handler. Because it's the only liquid handler that enables tip-less, fast, accurate and precise transfers from any source plate well to any destination plate well, the Echo liquid handler was exactly what the company needed to perform its cell-free transcription-translation (TXTL) studies.
"The difference between Echo and traditional liquid handlers is like night and day," Sun says.
Echoing Sun's assessment of this technology is Ahmed Qureshi, the company's Head of Business Development and Operations.
"Our discovery engine is 10-100 times cheaper and faster than traditional methods," Qureshi says. "We are able to test out a lot more variants from diverse backgrounds, and do it at an unprecedented rate. And we can continue to scale it up as the company grows."
In addition to its ability to significantly accelerate workflows, the Echo provides Tierra Biosciences with the high level of accuracy and precision they demand.
"The really low CVs help ensure our results are reliable, repeatable and scalable," Sun says, adding "this level of accuracy wasn't historically associated with cell-free systems—so using something other than an Echo won't deliver the accuracy we need."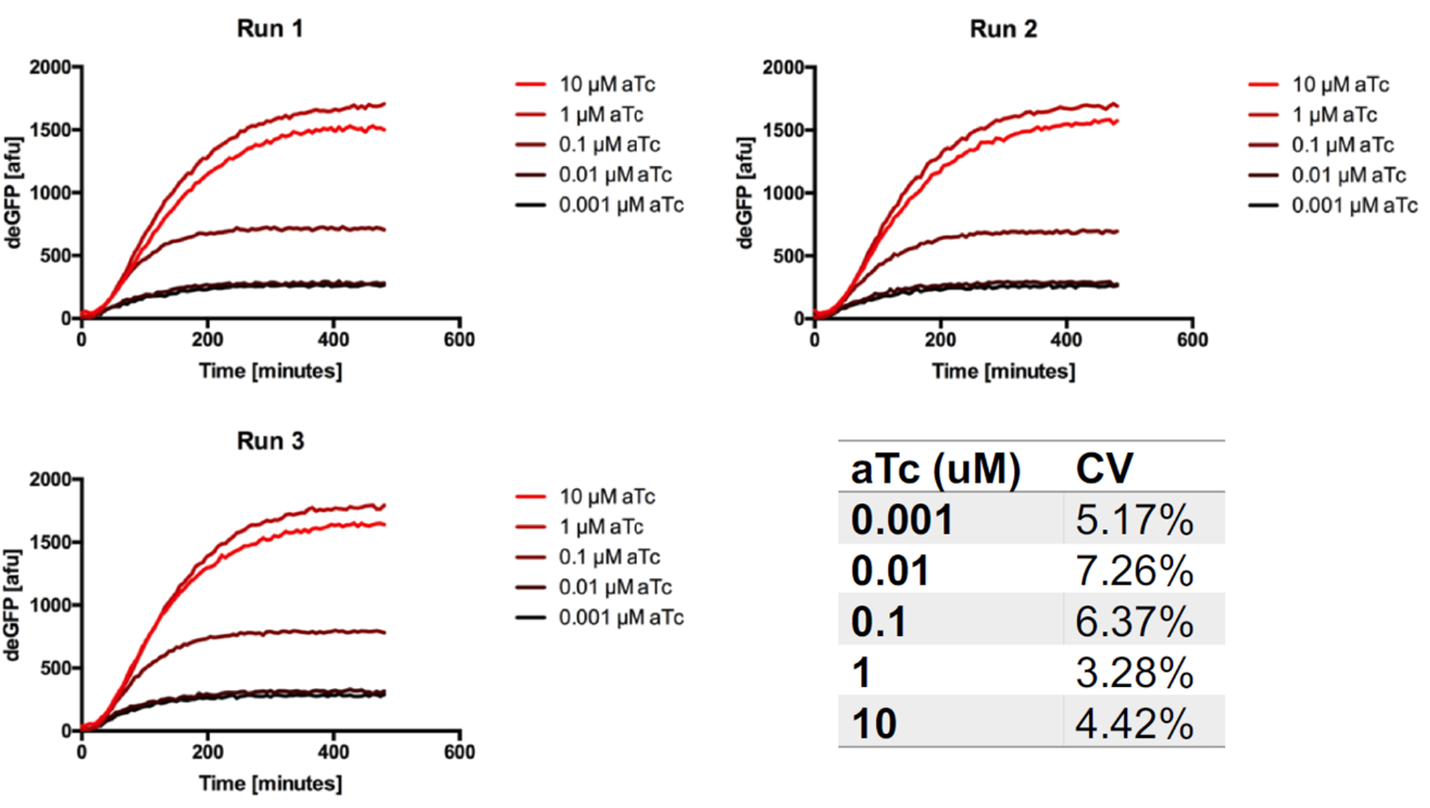 Building turn on repressor circuits that get lifted with an additive like anhydrotetracycline (aTc), using the Echo 525. Accurate and precise transfers of the Echo are confirmed by very low CVs and ensure that the results are reliable, repeatable and scalable. This level of accuracy and precision at low transfer volumes is not usually associated with cell-free systems when using tip-based systems.
Discovering the value of technological versatility
Collaborating with some of the planet's best minds from Caltech, DARPA and others to discover new, drug-like molecules from nature, Tierra Biosciences has relied on versatile Echo acoustic liquid handling technology to help streamline its process of mining, testing, scaling and learning.
Examples of successes to date include identifying new cyclic peptides that are RNA polymerase (RNAP) inhibitors, and accelerating the process for screening and engineering enzymes.
"We've shown how proprietary libraries can be tested in cell-free systems, then scaled up quickly based on the data," Sun explains. "We continue to help our clients understand how they can use cell-free systems to inform learning cycles to help them move the discovery process forward at speeds we wouldn't have imagined five years ago."
Adds Qureshi: "We're still continuing to test the limits of the Echo. We've used other automation systems, but the Echo has been the most versatile."
Discovering the future, one molecule at a time
Since its founding, Tierra Biosciences has proven to be proficient at discovering a variety of promising new molecules. Looking forward, the company's associates have committed themselves to fundamentally change the way scientists approach discovery, based on the premise that breaking the bounds of biology will lead to game-changing innovations.
"Society struggles to find new natural products," says Sun. "But in our technology we see a radically different way to replenish our natural product pipeline. Natural products are encoded in DNA, and we can uniquely access that DNA to find the molecules of the next century."
For more information about Tierra Biosciences, visit tierrabiosciences.com.
For information about Echo Acoustic Liquid Handling technology, visit beckman.com.
© 2020 Beckman Coulter, Inc. All rights reserved. Beckman Coulter, the stylized logo, and the Beckman Coulter product and service marks mentioned herein are trademarks or registered trademarks of Beckman Coulter, Inc. in the United States and other countries. ECHO is a trademark or registered trademark of Labcyte Inc. in the United States and other countries. All other trademarks are the property of their respective owners.
About Tierra Biosciences
Formerly known as Synvitrobio, Tierra Biosciences was founded in San Francisco in 2015 by CEO Zachary Sun, Caltech engineering expert Richard Murray, and renowned Harvard geneticist George Church, with proprietary technology that harnesses synthetic biology to express DNA from a variety of microbial sources. The company is primarily involved in the early discovery process; once it identifies a promising molecule, it passes it on to an industrial partner to begin the commercial-ization process.
Talk To An Expert