Clean in Place (CIP) Processes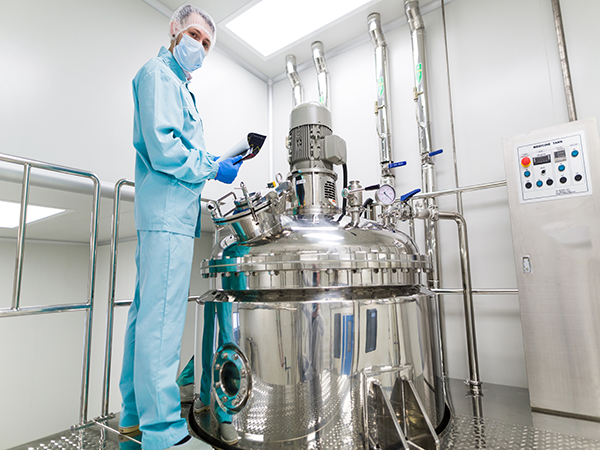 Bioreactors are used in the biologics industry for growing cells to be used for drug manufacturing. They create a wonderful environment for cell or virus growth, but could also be a good place for bacteria and other harmful materials to grow. Keeping the bioreactor environment clean is critical to reduce cross contamination, ensure drug purity and prevent carry-over of drug product from batch-to-batch. Regulators insist that, where possible, bioreactors need to be cleaned in place (CIP) after production.1
Due to the cells, viruses, or other materials that can be grown in a bioreactor, this biologic "soup" needs to be contained as much as possible. It could easily grow/spread or cross contaminate production lines if brought outside of the cleanroom environment. As a result, bioreactors are cleaned where they are, or cleaned in place (CIP).
CIP is achieved in a couple different ways, either the bioreactor is on wheels and rolled to a wall cleaning unit, or a cleaning unit is brought over to the bioreactor. The drug manufacturer will have developed a program of cleaning including cleaning agents, acids, a series of rinses with purified water (PW) and/or water for injection (WFI), and a final total organic carbon (TOC) check. After a technician has performed the cleaning program they conduct a final TOC check to ensure there is no organic material left in the bioreactor. If the cleaning is not executed there could be a higher concentration of the drug per mL in the bioreactor due to carryover from the previous batch. CIP is the final test to make sure the cleaning worked and no future batches in the bioreactor will be affected by the contents from a prior batch.
CIP systems can be fully or semi-automated to require minimal operator intervention
Parameters such as time, action, concentration (of cleaning agents) and temperature (TACT) determine CIP process outcomes
Carefully controlling TACT parameters—and documentation for process validation and product-batch release—help ensure consistent success of CIP protocols
Automating QC processes for CIP systems (e.g., monitoring total organic carbon in the final rinse water) can help speed up the release of the vessels back into production and avoid production delays
References
1. Good Practice Guide: Ozone Sanitization of Pharmaceutical Water Systems, ISPE. July, 2012. https://ispe.org/publications/guidance-documents/ozone-sanitization-pharmaceutical-water-systems
Products and methods described are not intended for use in diagnostic procedures.
Products for CIP Processes