Scientific Services
Cytobank Scientific Services provide fast, expert analysis of large and high parameter single cell, bulk and integrated datasets. When you purchase our Services you get access to:
PhD-level expertise in bioinformatics, statistics, immunology, and biology
Expert machine learning analyses of single cell data and cross-data type integration
Experience analyzing data in oncology, autoimmunity, inflammatory disease, immunotherapy, and infectious disease
Cytobank's secure and scalable cloud-computing resources or automated integration with other databases via our API
What you can Expect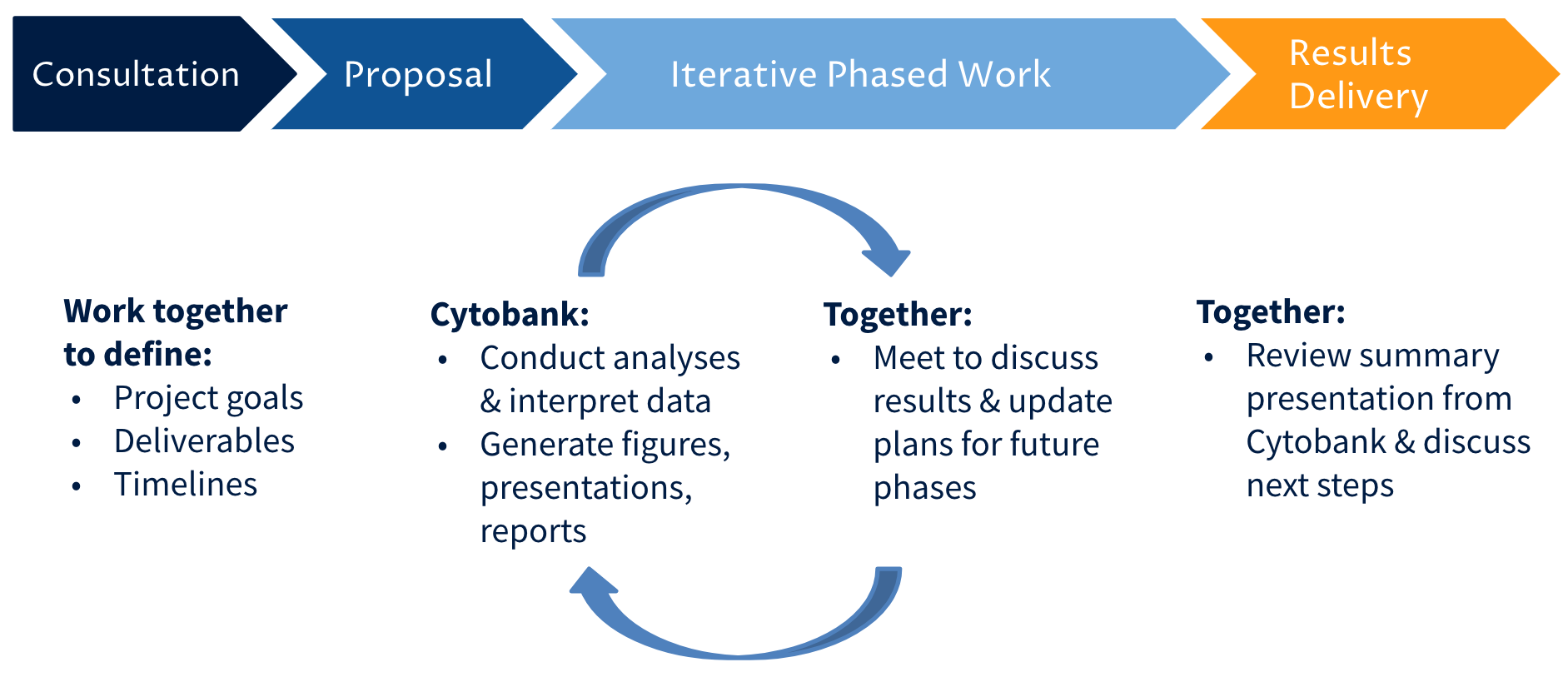 CONSULTATION
We'll start by scheduling a consultation to learn about your data, experiment set-up, overall project goals, and the discoveries you'd like to make.
Scientific questions and/or clinical research context
Overall analysis goals
Experimental and data details
Special considerations
PROPOSAL
Our team will outline proposed project phases for the analyses to be performed and deliverables.
Outline of overall project goals
Project deliverables and budget
Approximate timeline for completion
PHASED WORK

We will work with you in an iterative process to perform analyses, interpret data, and generate summary reports. Project phases are aligned with deliverables and meetings, which provide seamless opportunities for collaboration.
Data Quality Control & Pre-processing
Dimensionality Reduction & Data Visualization
Cell Subset Identification (Clustering)
Statistical Analysis
Biological Interpretation
REPORT DELIVERY
All project materials and deliverables will be accessible online on your secure Cytobank cloud.
• Your data organized in the Cytobank cloud with a guide to easily navigate the steps of the analysis that empowers you to reproduce the results
• Summary figures and reports provided in PowerPoint and/or PDF format
• R scripts to run automated analysis or data integration pipelines
• Written Standard Operating Procedures (SOPs) for running analysis pipelines
SUMMARY MEETING
We will schedule a final project summary meeting to discuss these materials and results.
• Consultation with your Cytobank services team to discuss results and future directions
Please fill out the form below and we will get you in touch with your Cytobank Software Scientific Services Consultant.