MET ONE Facility Monitoring System (FMS) Software
MET ONE 3400 with Simply Paperless
Get 21 CFR Part 11 compliant secure records directly from your portable air particle as an easily parsed CVS or XML format or via a secure PDF. Available as a field upgrade to your MET ONE 3400 series air particle counter. Offers direct upload of files via secure FTP protocol or via USB thumb drive download.
MET ONE UVO+
MET ONE UVO+ solutions set the standard of scalable on-line particle monitoring systems. Whether you run limited, short term aseptic manufacturing or multiple production lines of high-volume filling suites our MET ONE UVO+ platform adjusts to your specific requirements. Use wireless portables or dedicated on-line sensors, add environmental sensors or mix them all in a batch-driven style of operation. MET ONE UVO+ manages all data for Grade A sterile areas, including cleanroom classification, pre-production environmental qualification and aseptic on-line manufacturing.


Windows-based SCADA (Supervisory Control and Data Acquisition) software based on the use of a real-time database
Completely customizable user interface (map of your facility, area or tool)
Monitor up to hundreds of locations simultaneously
Supports 21 CFR Part 11 compliance, enabling secure data management
Integrated secure audit trail
Single user or client-server system
Advanced alarming (with acknowledgment), reporting, data display (value tables, trend charts)
Batch-driven data capture, display and reporting
Industry standard communications protocols (analog, digital, serial, modbus RTU/TCP, OPC)
MET ONE UVO+ Standard
Monitors up to 28 non-viable air particle counters and 28 viable air sampling heads for work flow optimized operation of batch production filling lines and processes. Allows for electronic signature on customized reports. Enables 21 CFR Part 11 compliant security and audit trail.
MET ONE UVO+ Custom
Work with MET ONE FMS engineers to customize UVO+ to your specific workflow needs. Define custom reports, user interfaces, alarm conditions, reports, emails, and external machine interfaces to automate your workflow and eliminate the possibility of human error. Implement electronic signatures with LDAP / Active Directory integration to simplify user management. Enables 21 CFR Part 11 compliant security and audit trail.
MET ONE Data Management Server

Connects to remote and portable MET ONE air particle counters to automatically gather records, store them in a secure SQL database, and provide access to them via SQL queries or OPC connections to outside software. Also offers automatically generated custom reports to facilitate 24/7 monitoring output.
Compatible with all MET ONE air particle counters
Enables capture of enhanced features beyond just particle counts (flow, calibration dates, location, batch IDs etc.)
Compatible with most OPC clients
Enable secure data integration to your ERP, BMS, LIMS or other enterprise network solution
SQL database enables simple integration and report building (simple reporting available directly from the system)
MET ONE Solution
Pharmaceutical Application
Industrial Application
Recommended Maximum Nonviable Sampling Locations
Recommended Maximum Viable Sampling Locations
IQ/OQ Available
MET ONE 3400 Simply Paperless
• Secure PDF straight from the counter
• Automatic transfer via S/FTP to your server
• Enables 21 CFR Part 11 Compliance
• Easy to parse text file straight from the counter
• Automatic transfer via S/FTP to your server
• Easy access to quality data
Portable to 999 locations
N/A
Yes
MET ONE Data Management System
• Gathers data from multiple portable and remote air particle counters
• Stores data in a SQL database for simple retrieval or report generation
• Provides OPC tags for industrial automation integration
• Secure System for data storage and access
250
N/A
Yes
UVO+ Standard
• Batch optimized User Interface for running up to several lines from a single display
• Custom reports and alarms
• Integrated electronic signatures for starting, stopping, alarms
• Integrated audit trail
• Enables 21 CFR Part 11 compliance
• Batch optimized User Interface for running up to several lines from a single display
• Custom reports and alarms
28
28
Yes
UVO+ Custom
• Workflow optimized user interface customized to your specific needs
• Custom reports, alarms, emails, or other external interfaces (i.e. machine controls)
• Electronic signatures with LDAP integration available for any point in the workflow process
• Integrated audit trail with user defined audit points
• Enables 21 CFR Part 11 compliance
250
250
Defined with your input based on the User Requirement Specification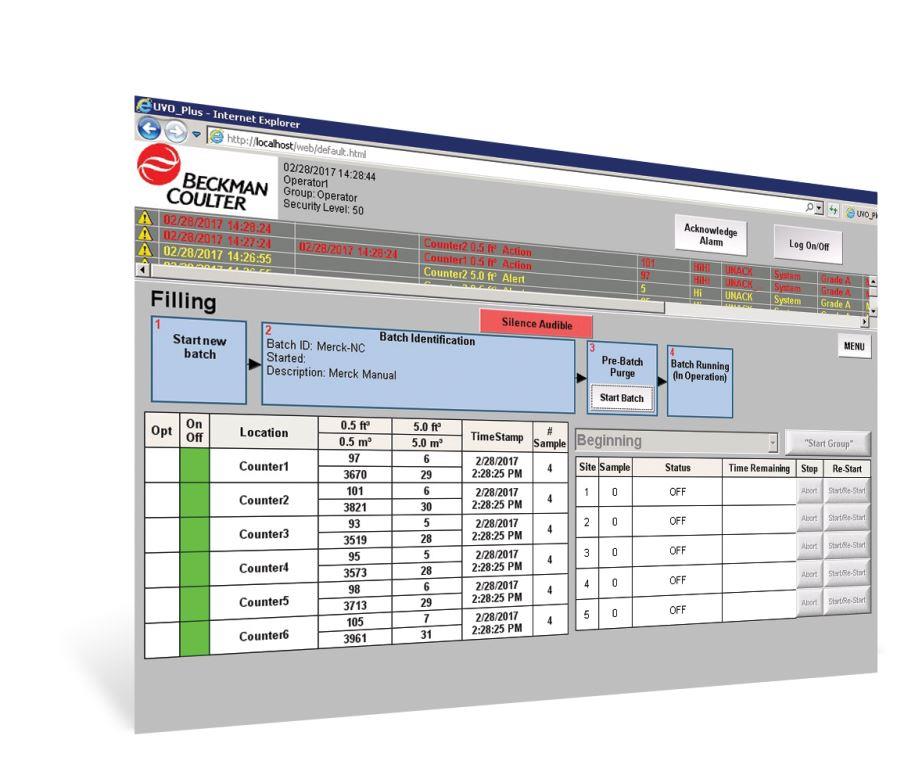 Screen 1. Workflow optimization with UVO+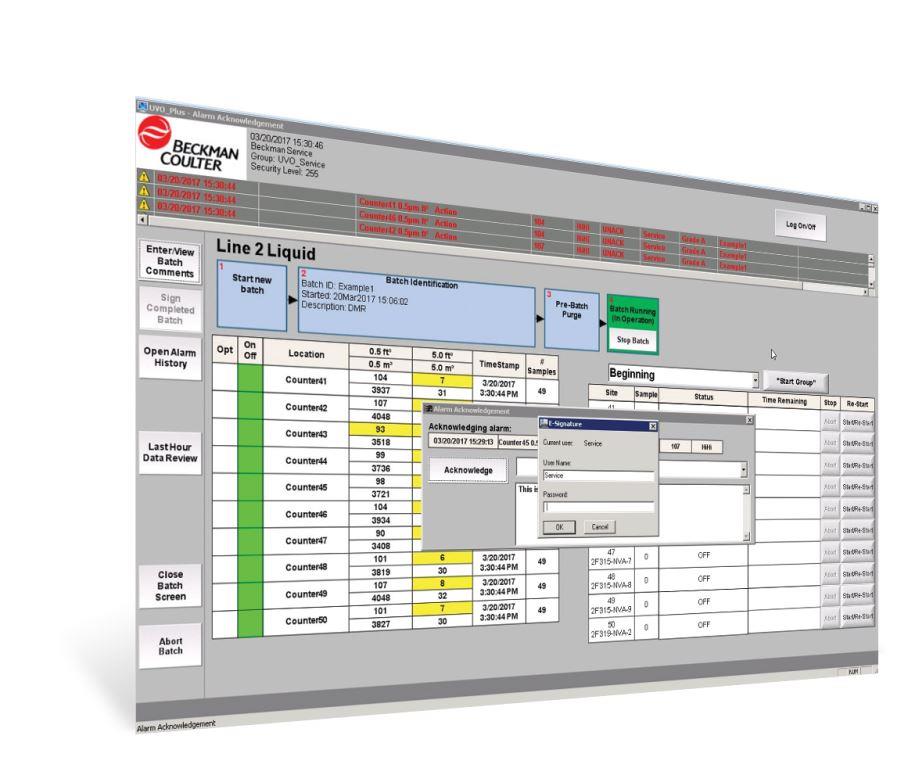 Screen 2. Electronic signature with UVO+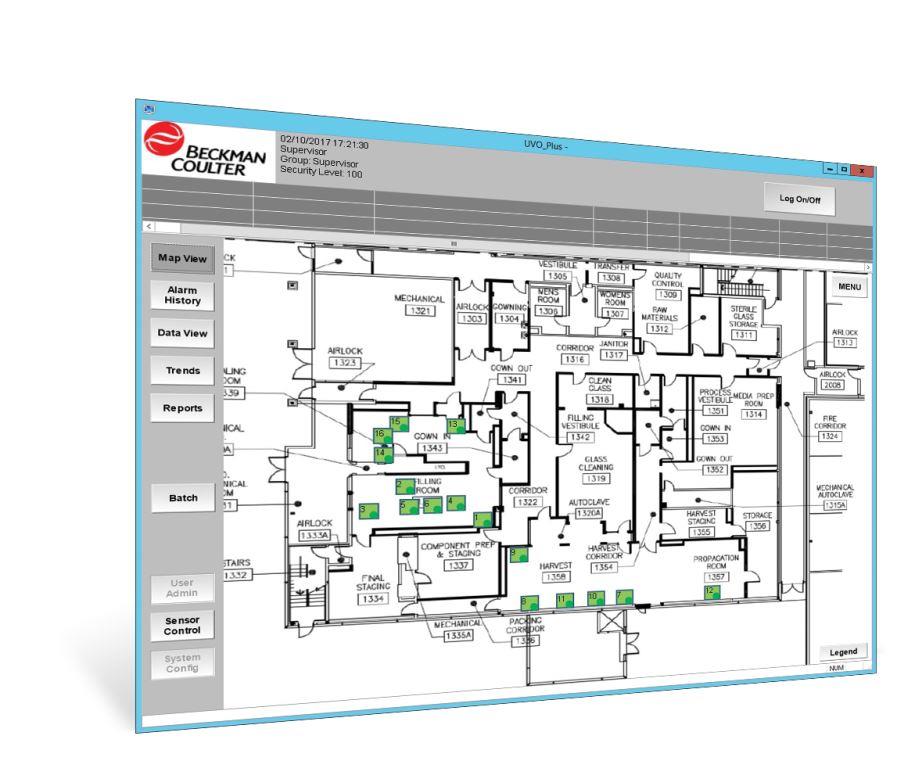 Screen 3. Status map view with UVO+