Next generation Sequencing Library Preparation
Automated Liquid Handling Solutions
Next generation sequencing (NGS), or massively parallel, high-throughput sequencing technology, continues to play an integral part in genomic research. Although a basic NGS workflow consists of just three steps—library preparation, sequencing, and data analysis—library preparation is a tedious, labor-intensive process that can be crucial to the success of your sequencing data.
Cost Saving Through Reducing Library Prep Volumes
As the cost of sequencing has gone down the cost of library prep has become a bottleneck, especially in high-throughput applications such as microbial or single-cell sequencing. One way to reduce the library prep cost is reducing or miniaturizing the reaction volumes.
Echo Liquid Handlers enable library preparation in low microliter volumes for a range of sequencing methods including Sanger, 16S and NGS – to dramatically reduce reagent costs, sample usage, and eliminate steps — all while maintaining/improving data quality and increasing the throughput.
Reduce Library Prep Costs 100-Fold
Using the Echo Liquid Handler for NGS library preparation versus conventional liquid handlers allows for significant reduction in reaction volumes (~100-fold) and therefore reducing library prep costs.
Comparison of Liquid Handling Methods
| | | |
| --- | --- | --- |
| | Manual Pipetting | Echo Liquid Handler |
| Amount of DNA | 50 ng | 0.06 - 2.0 ng |
| DNA Volume (Rxn) | 25 µL | 200 nL |
| Library prep volume (Rxn) | 25 µL | 300 nL |
| Total volume | 50 µL | 0.5 µL |
| Reactions per kit | 96 | 9600 |
| Cost per reaction | $72.91* | $0.73* |
* Based on list pricing.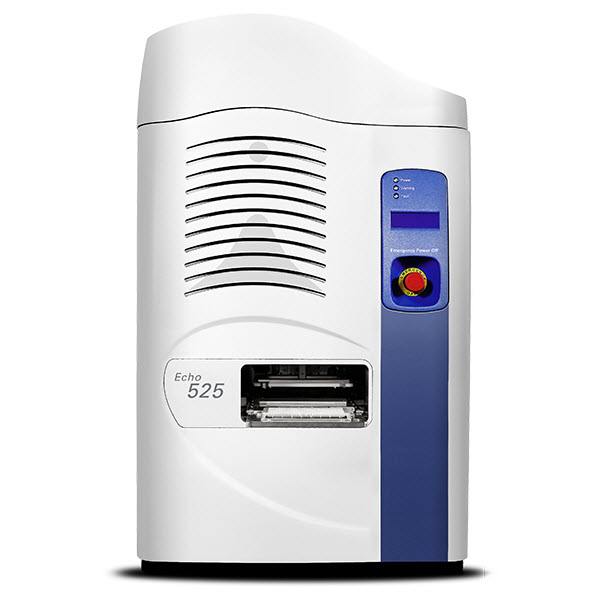 Reduce Transfer Volumes by 75% or More
When NGS sequencing programs scale, the cost of library preparation is a limiting factor. With the Echo Liquid Handler's low-volume acoustic transfer capability, researchers can significantly increase the number of libraries generated while maintaining current budgets.
Normalize and Pool Libraries for Sequencing with Greater Accuracy and Precision in Less Time
Echo Liquid Handlers can rapidly pool and normalize oligos or DNA libraries from any well of a microplate. With average transfer times of no more than a few seconds per well, Echo Liquid Handlers can reduce pooling times by more than 80% compared to traditional liquid handlers. Since Echo systems can transfer volumes as little as 25 or 2.5 nL, high concentration libraries do not have to be diluted prior to transfer. This capability results in simultaneous normalization while pooling. Furthermore, by avoiding tip-based sample dilution, the propagation of errors from sample retention by tips is eliminated. This drastically improves the concentration accuracy and precision of all pooled libraries.
Key Benefits
Reduced library prep cost through efficient assay miniaturization
Preserved or improved data quality with reaction volumes as low as 250 nL
Fast and simultaneous normalization and pooling of libraries due to wide dynamic range of the Echo
Integrated systems and software tailored for genomic reactions
Biomek Genomic Workstations
Automated solutions can start at nucleic acid isolation, then continue through steps like NGS library construction, and result in analysis-ready libraries. We deliver demonstrated methods enabling faster implementation of your genomic workflows.
Demonstrated methods are developed for a sample preparation kit following a vendor's published manual protocol.
These methods are tested with scientifically relevant samples and yield results that meet the kit vendor's specifications either in a customer or vendor lab (customer/vendor demonstrated) or in a Beckman Coulter Life Sciences Lab (Beckman demonstrated).
Demonstrated methods also include a growing number of Illumina®-qualified NGS methods. Illumina-qualified methods indicates that Illumina's analysis of libraries prepared with the Biomek-automated method has shown the libraries to perform comparably to those prepared manually.
Nextera XT NGS Library Prep

Genomic Reagents Portfolio
Our reagents are powered by Solid Phase Reversible Immobilization or
SPRI technology
, which uses SPRI paramagnetic beads to selectively bind nucleic acids by size. It's ideal for nucleic acid extraction from cells, tissue, blood and even challenging formalin-fixed, paraffin-embedded (FFPE) samples.
* Low-cost, high-throughput sequencing of DNA assemblies using a highly multiplexed Nextera process. Shapland et al. ACS Synth. Biol., 2015