LUCID plates
Dry-reagent solution adapted for high-throughput labs
In combination with DURA Innovations technology, Beckman Coulter has expanded its LUCID - Custom Panel Design & Cocktail Services offering to include microplates. Now, even high-throughput flow cytometry laboratories can benefit from the advantages that dry-reagent cocktails provide—without needing to adapt their workflow to the tube formats.
These ready-to-use cocktails* are tailored to your specific research needs. They are easy to order, easy to use, and free your lab staff from unnecessary, time-consuming tasks.
The result for your lab is a more streamlined, efficient and productive workflow.
Specifications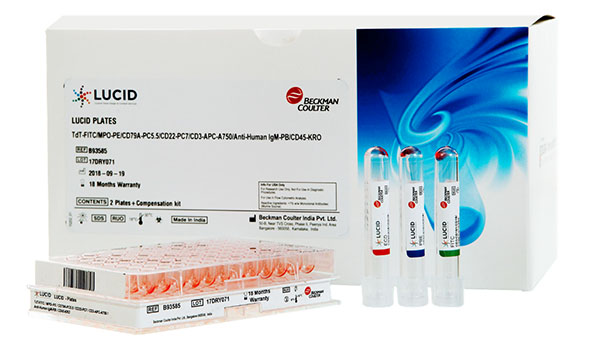 Two 96-well plates per kit: 2 pouches of 1 microplate each and 1 pouch with Compensation Kit
Shallow- and deep-well options of microplate format
2 to 15 conjugates per panel
Same reagent panel across all wells
Minimum order quantity: 2 kits (4 microplates)
1 plate of Evaluation or Pre-lot provided for validation of every new panel ordered
DURA Innovations technology—dry, unitized reagents that can be stored at room temperature
Barcoded for easy traceability
Function Equivalent to dried customized panel in Tubes
*For Research Use Only. Not for use in diagnostic procedures.