AQUIOS CL Features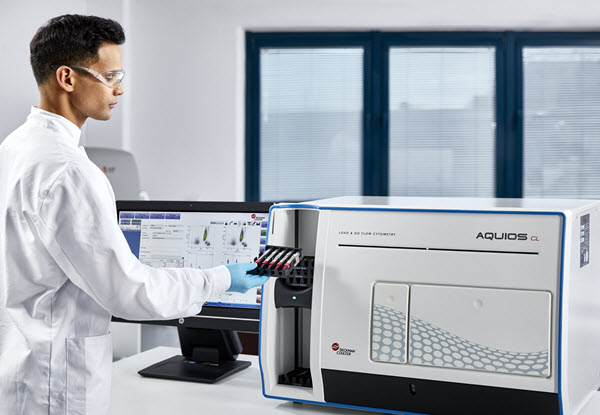 The AQUIOS CL Flow cytometer in combination with AQUIOS Panel has been accepted for the WHO list of prequalified in vitro diagnostic products
Full Bidirectional LIS Connectivity
Automatic retrieval of test requests and transmission of test results
No need for additional workstations or software to connect to the LIS System
No need to create or download worklists manually
Automated System Setup
Preprogrammed protocols per application
No daily setup reagents required
No manual system or controls optimization
Power on, system warmup, load controls, load samples - that's it!
Smart Track Reagent Monitoring
Uses a range of barcoded reagents and consumables
Automatic barcode scanning to track those reagents, lot numbers, open and closed vial expiration dates, and number of tests or volume per reagent container
Continuous tracking of reagent usage
Automatic reagent monitoring including the number of tests remaining and warnings when tracked reagents are low, out or expired
Cassette Autoloader
Total capacity 40 sample tubes
Accommodates a variety of tube sizes
Continuous, random loading and unloading
Separate single-tube loader for STAT samples, open vials, and tubes that are not barcoded
Automated Sample Preparation
Automatic matching of sample identification code with the test request
All sample preparation and analysis performed in 96-well microplates
Automatic launch of applicable testing protocol
Positive specimen ID and automatic specimen mixing immediately prior to aspiration
Automatic dispensing and mixing of applicable reagents
No manual pipetting of primary tubes
Automated Sample Preparation
Pipeline Sample Processing
Eliminate slow, inefficient batch processing of samples
20 minutes to the first result after sample load (measured with Tetra-1 or Tetra-2+)
After the first result, it's 25 results/hour for up to one full 96-well plate (measured with Tetra Combo)
Two multitasking probes: one for cap piercing and sample preparation, the other for aspirating prepared samples for analysis
Each sample is analyzed as soon as it is ready
Intelligent analysis algorithm sets all gates and regions automatically
System flags samples that don't meet autovalidation criteria
Real Time Sample Monitoring
Intuitive software interface indicates the status of each sample
Know at a glance where each sample is in the process and how much time until results are availableAutomatic retrieval of test requests and transmission of test results
Comprehensive Quality Control
Barcode tracking means no manual QC or reagent logs
Generate a full, easily reviewable audit trail that includes reagent traceability
Should QC fail, operator can be alerted via text message or email
AQUIOS CL System Specifications
Dimensions:
System: W: 32" (82 cm); D: 22" (56 cm); H: 22" (56 cm)
Workstation: W: 23" (59cm); D: 5" (13cm); H: 18" (46cm)
Supply Cart: W: 21" (54cm); D: 18" (46cm); H: 16" (41cm)
Sample Loading
Autoloader holds up to 8 cassettes at a time with up to 5 sample tubes each and allows for continuous loading and unloading. A separate single-tube loader enables both open- and closed-vial sampling.