MoFlo Astrios EQ Features
ENHANCED FORWARD SCATTER
Removing your constraints
Our latest development, eFSC (enhanced Forward Scatter), permits simultaneous detection and sorting of a wide range of particle sizes yet, and offers the potential to open new insights into your experimental milieu.

Our fastest and most precise sort deposition technology, coupled with mixed-mode sorting, will allow you to move into assay miniaturization to make more of your precious samples.

Multiple available levels of biohazard control enable you to work with potentially biohazardous materials that you would previously have only been able to analyze, not sort.

Beckman Coulter is committed to continuing the path of innovation allowing you to do more with your MoFlo Astrios EQ than you dreamed was possible yesterday.

Bringing new data within reach
Go beyond conventional sorters and expand your research horizons with the MoFlo Astrios EQ.
Broader analytical capability
Robust biohazard containment
Application flexibility
Consistently trustworthy data
Accelerate cell sorting with the first true 32-bit high-resolution 5-decade multi-channel system
Simultaneously measure crucial particle characteristics in more than three orders of magnitude.
7 lasers, 2 alignment stages
Resolve particles (beads and cells) down to 0.2 µm
Sort rare event populations with 99% purity
Flexible experiment design with 6-way mixed mode sorting
Forward scatter detection support for 6 laser paths
Optional side scatter off any laser (excluding UV)
Minimum triggering threshold reduced to 0.001% for enhanced resolution
Seven mask designs for differing applications
ABS ND filter set 0.3, 0.6, 1.0, 1.3, 2.0
Fluidic and air filtration enhancements:

Gentle with your biological material
Sheath filter 0.04 µm particles
Air filter 0.01µm particles•

Unequalled resolving FSC & FL power through adjustable 9-decade dynamic range for greater certainty when resolving background from dim staining populations and/or broad dynamic range applications
Unequalled resolving FSC & FL power through adjustable 9-decade dynamic range for greater certainty when resolving background from dim staining populations and/or broad dynamic range applications
PERFORMANCE
In conventional cell sorters, there is a three-way trade-off between sort speed, sort purity and sort yield. The MoFlo Astrios EQ Mixed Mode sorting allows selecting for purity in one sort-direction and yield in another, enabling simultaneous recovery of virtually all the target cells that would otherwise be lost to achieve that high purity. This enables you to sort faster without losing extremely valuable cells, and without sacrificing purity of the principal sort.
Perform 6-way sorting without compromise
Save time by selecting more populations at once
Mixed Mode sorting: each sort stream is capable of having its own sort mode (Enrich, Purify, Single) programmed.
Soft aborts can be collected for reanalysis or resorting.
Index sorting with intuitive mapping of events
Break free from cuvette sorting restrictions
Analyze heterogeneous populations with confidence — no differential velocities based on particle size; eliminate the need for Area:Height scaling and laser-delay optimization
Maintain consistent performance with less maintenance — no concern about burn-in of debris on cuvette
Allow biological demands to dictate sorting conditions — select from 70 and 100 micron nozzle sizes, to precisely accommodate cells from practically any tissue you want using Intellisort II to automatically maintain drop delay
Enjoy unsurpassed plating efficiency
Finest deposition accuracy
Achieve high throughput single-cell deposition rates for an entire 96-well plate within 75 seconds and an accuracy of 99 % from a 1 % sort population
Broad plate range available (6 to 1536 well plates)
Achieve better precision with uncharged drop collection where required
Analyze and sort from microsomes to macrophages, from astrocytes to xenografts
Work with an extensive range of biological and non-biological particles
Consider non-biological applications like agarose gel droplets, TiO2 and gold nanoparticles, or environmental particulates
Fine-tune the instrument to suit your application
Match nozzle size to most experimental demands
See large and small events together with optimized forward scatter masks
Gain greater freedom to adjust pressures to handle wide range of cell types from multiple tissue sources
Enhance cell viability and throughput with sample agitation and temperature control
BIOLOGICAL SAFETY
Maximize safety without compromising workflow
Designed from the start with biosafety foremost in mind, the MoFlo Astrios EQ has a sort chamber that features rounded corners and edges throughout to facilitate cleaning. It also includes multiple levels of interlocks to protect users during normal operation from laser, electrical and biohazard risks.

The optional Baker Company SterilGARD biological safety cabinet can be fully integrated with the MoFlo Astrios EQ, to provide assured biological safety level 2 (BSL2) containment without compromising workflow, thanks to the aerodynamic design of the MoFlo Astrios EQ itself. The BSL 2 cabinet is fully tested to NSF-49 international standards when enclosing the MoFlo Astrios EQ. The r-theta carrier arm mechanism helps eliminate cross-contamination between sorts by maintaining a sealed and easily cleaned sort chamber. The aerosol evacuation system pulls particulates from three chambers with verified performance to meet ISAC guidelines.
Built-in Aerosol Evacuation Port that accommodates the MoFlo Astrios EQ's unique three-aerosol evacuation chambers – no need for additional aerosol management options (unless required by specific lab operating procedures) or external building exhaust infrastructure.
Fully sealed sort chamber accessible via an R-Theta CyClone® arm that ensures aerosols are captured and evacuated via SterilGARD HEPA filtration system.
Cabinet-2-Sorter Interlock controller between the MoFlo Astrios EQ and the Baker SterilGARD cabinet ensures biosafety is maintained at all times during aerosol generation.
Zero hard edges to simplify surface cleaning and maintain aseptic sort environment.
Floor-standing design, which includes the MoFlo Astrios EQ lower module and accommodates most standard laboratory spaces.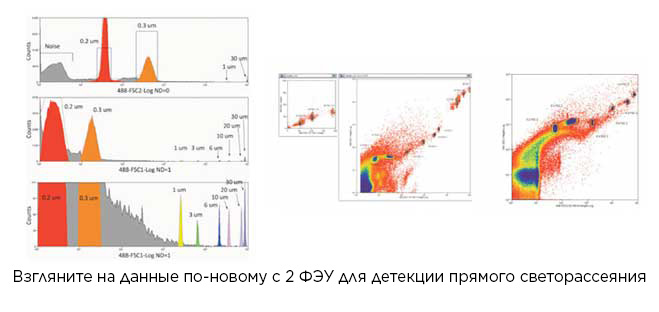 MoFlo Astrios EQ Sorter Forward Scatter
Apply application-specific masks for different particle types and use different neutral density filters for improved overall particle size range. The top histogram is measured on eFSC2 with no neutral density (ND) filter to widen the separation between noise and 0.2 and 0.3 μm beads. The second and third histograms display eFSC1 data (acquired with an ND1 filter) with different y-axis scales. The entire dynamic range from 0.2 - 30 μm is easily visible when different ND filters are used on each eFSC parameter.
Innovation and Development
Beckman Coulter today is the inheritor of the pioneers of modern cell analysis. We continue that proud tradition of innovation with complete cytometry solutions. The MoFlo Astrios EQ is an instrument you can depend upon, from a company you know and trust.

Beginning with pH meters designed by Arnold Beckman and commercialized from 1935 and automated particle counters based upon the Coulter Principle invented by Wallace Coulter and patented in 1953, Beckman Coulter has a long history of innovation and development in the science of measurement, particle characterization, and sorting.

Flow cytometry has been part of our core business since the first EPICS II cell sorter in 1974. It is a proud tradition and one that you can be sure the company will continue to support and develop, with complete cytometry solutions encompassing sample preparation, reagents, detection and analysis software.

The acquisition of the extremely successful MoFlo high-speed cell sorter platform and the on-going development of this technology attests further to this commitment to the future, and to the support of scientists pushing the boundaries of cell biology research.