Vi-CELL BLU vs. Vi-CELL XR: Comparison of System Specifications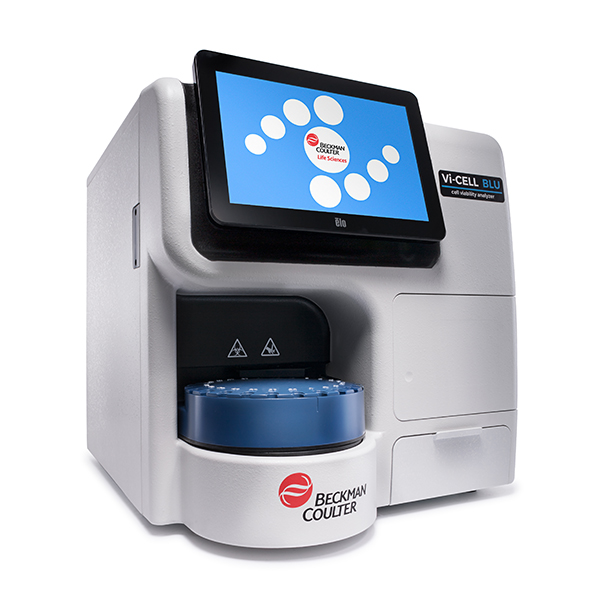 Based on customer feedback, we made these enhancements for Vi-CELL BLU cell viability analyzer:
Compatibility with a 96-well plate
Carousel accommodates more sample cups
Faster sample processing time
Smaller sample volume required
Easier reagent loading
Take up less bench space with monitor incorporated in system
Facilitates 21 CFR Part 11 compliance
The Vi-CELL BLU automates the trypan blue dye exclusion method for cell viability and counting using advanced liquid handling and imaging technology for applications in biopharmaceutical quality control and pharmacology. With the Vi-CELL BLU you automate the entire analysis process – sample aspiration, trypan blue mixing, image analysis and instrument cleaning – to revolutionize the speed, reliability and reproducibility of results, and it provides critical information manual cell counting methods simply cannot offer.
Criteria
Vi-CELL XR
Vi-CELL BLU
Single sample analysis time
180 sec
< 130 sec Normal Mode < 90 sec Fast Mode
Carousel loading
12 position carousel
24 position carousel
Microplate loading
-
Standard multi–well microplates
Cell Viability Method
Trypan blue dye exclusion
Trypan blue dye exclusion
Cell Size Range
2–70 μm
2–60 μm
Focus System
Autofocus
Autofocus
Image Transfer
Firewire
USB 3.0
Camera Sensor Size
1280x960
2048x2048
Captured Image Size
882x661 pixels
2048x2048
Analyzed Image Dimensions
832x611 μm
1000x1000 μm
Effective Resolution
1 μm per pixel
0.5 μm per pixel
Imaged volume per frame
43 nL
65 nL
Minimum Sample Volume
500 μL
200 μL Normal Mode 170 μL Fast Mode
Cell Density Range
5x104 – 1x107 cells/mL
5x104 – 1.5x107 cells/mL
Counting Accuracy
± 10%
± 10%
Counting repeatability
± 10%
± 5%
Reagent Pack
200 activities per pack
310 activities per pack
Facilitates 21 CFR Part 11 compliance
Yes
Yes
Data formats
TXT, MS Excel
CSV, PDF, Encrypted Binary
Touchscreen interface
Depends on external PC
Integrated
SQL compatible database
No
Yes
Single Sign-On (SSO)
No
Yes
Computer System
External PC, Windows 7 Professional
Integrated PC, Windows 10 Enterprise LTSC, 64 bit
Computer System Specifications
Varies depending on configuration ordered
6th i7–6700 Generation Intel CPU 4 cores
at 3.4 GHz 16 GB DDR4–2400 RAM
Mini–ITX Motherboard 500 GB
Samsung EVO 850 SSD
Connectivity
Via PC system
2 x USB 3.0 ports, Gigabit Ethernet
Height
44.5 cm (17.5 in) excluding PC
45 cm (16.5 in)
Width
38 cm (15 in) excluding PC
54 cm (21 in)
Depth
41 cm (16 in) excluding PC
42 cm (18 in)
Weight
11.3 Kg (25 lb) excluding PC
28 Kg (63 lb)
Power
41 cm (16 in) excluding PC
42 cm (18 in)
Depth
Power: 50 watts (65 watts max) Voltages: 100V, 120V, 220V, or 240 V50/60 Hz
Power: 50 watts (65 watts max) Voltages: 100V, 120V, 220V, or 240 V50/60 Hz
Recommended Control Beads
Request more information about the Vi-CELL BLU.