Features of the Multisizer 4e Coulter Counter
The Multisizer 4e Coulter Counter is the most accurate and flexible particle characterization device available, boasting an unparalleled sizing range of 0.2 - 1600 μm. The new 10 μm Aperture allows users to study sub-cellular and micro-particles as small as 200 nm, while the advanced noise reduction system for small apertures improves measurement accuracy.
Features include the following: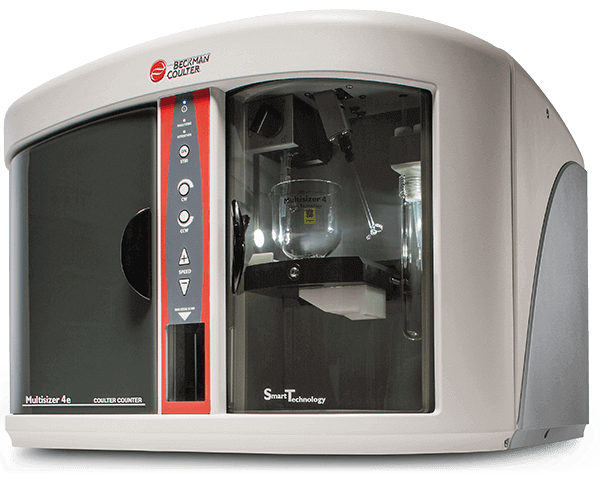 Aperture sizes from 10 µM – 2 mm let you measure particles from 0.2 μm – 1,600 μm to meet current/future needs.
Multiple aperture choices enable overlay of data collected from different apertures so you can analyze complex samples with wide particle size distribution.
Multi-parametric analysis provides data on particle number, volume, mass and surface area size distributions from one measurement.
Proven Coulter principle technology detects particles independently of refractive index, color or composition, so you can measure any particle that can be dispersed in an electrolyte solution.
Signal processing system increases dynamic range and reduces noise for small particle detection.
Supports use of 5 mL Nalgene™ vials to help preserve precious samples.
Automatic detection of aperture blockages ensures worry-free operation.
Automated routines and easy-to-use wizards help you design experiments regardless of your experience level.
Multiple SOM/SOP configurations and V-check validation package help simplify Quality Assurance.
With no licensing restrictions, software can be installed on multiple computers for offline processing, which frees up the instrument to run samples and helps maximize operational efficiency.
Represents proven technology defined by the International Standard ISO 13319, with 9 approved ASTM methods.