Secure PROService Framework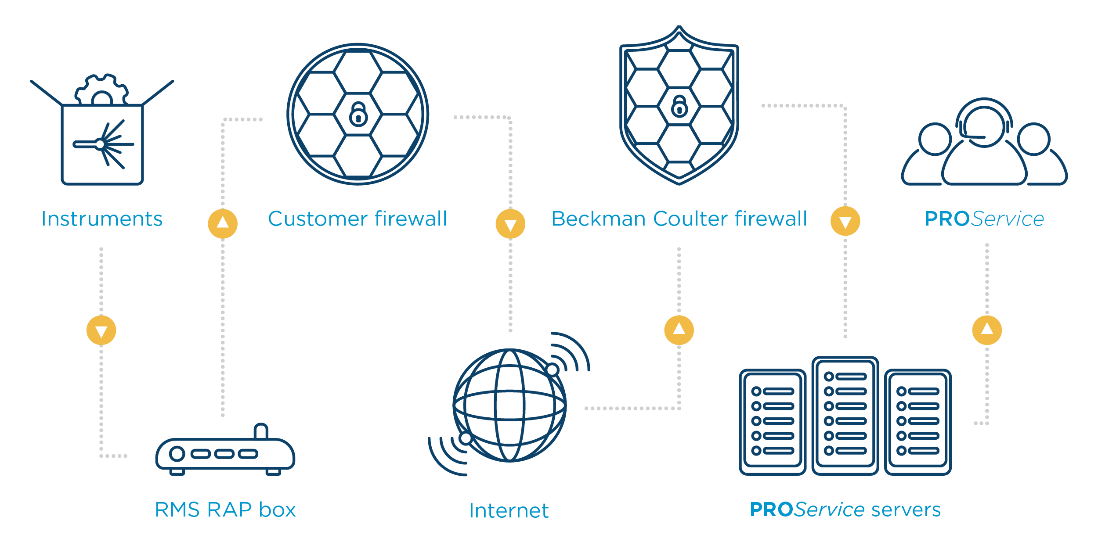 Remote Management Framework
PRO
Service
transfers instrument performance data using a multi-faceted approach and advanced technologies that meet rigorous standards for data security, privacy and confidentiality.
A compact
Remote Application Processor
(RAP) box with its own internal firewall is placed proximate to your instrument for real-time encrypted communication between your lab instrument and secure PRO
Service
servers.
Rigorous data security standards, encryption methods and message-processing security protect the data being transferred. Each remote session requires customer authorization and access is limited to Beckman Coulter service and support staff in your geographic region.*
Five Steps to PROService
Complete the 'Get PROService' questionnaire
RAP box(es) will arrive at your location
Contact your Beckman Coulter representative for RAP box installation**
A Beckman Coulter field service representative will complete the onsite installation***
You're ready to start using PROService
*The PRO
Service
RAP box meets U.S. Department of Defense Information Assurance Certification standards.
**RAP box installation for AQUIOS can be customer-installed with remote phone support. RAP boxes for other instruments must be installed by a Beckman Coulter service representative.
***We recommend your lab manager and IT support be available at time of installation.