Service and Support Offerings for Vi-CELL Analyzers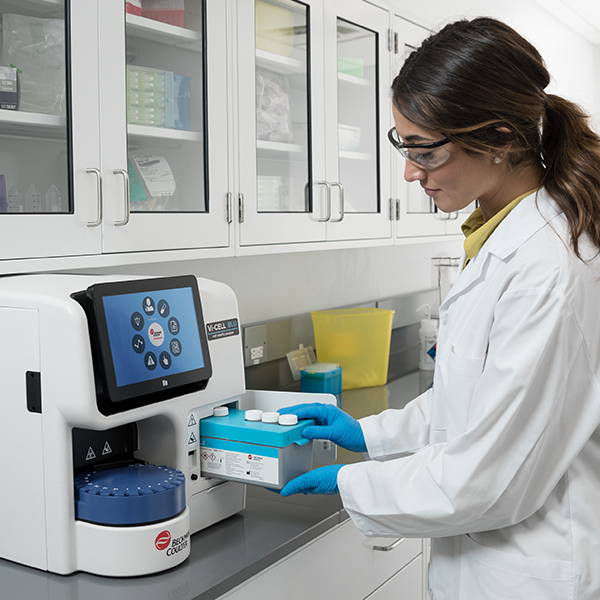 Service and support for your entire product lifecycle from the people who know your instrument best
Validation Services
Get it right from the Start
Combining installation and qualification procedures helps ensure the highest operational performance for your compliance needs.
Benefits of Qualification Services
Vi-CELL XR
Vi-CELL MetaFLEX
Vi-CELL BLU
Installation Qualification (IQ)
Recommended frequency: Initial installation and if instrument is relocated
Documented collection of activities necessary to establish that an instrument is delivered as designed and specified, and is properly installed in the selected environment, and that this environment is suitable for the instrument
Operational Qualification (OQ)
Recommended frequency: Initial installation and annually
Documented collection of activities necessary to demonstrate that an instrument will function according to the manufacturer's operational specification in the selected environment
Service Plans and Preventive Maintenance
Protect your instrument from downtime, performance issues and unexpected costs
Our flexible service plans ensure maximum uptime and performance at a fixed rate. With a service plan, you'll receive priority response, access to our remote diagnostic platform and training options.
Benefits of a Service Plan:
Inspection to help avoid unexpected downtime
Testing to confirm accuracy and ensure optimal performance
Priority response through remote services or onsite with an engineer to eliminate wait time for repairs
Labor and spare parts coverage to ensure cost control
Ongoing support to ensure data integrity and compliance with 21 CFR Part 11
Click here for more information.
Remote Support with BeckmanConnect:*
Encrypted, permission-based communication controls
Secure sessions with expert support personnel within your geography
Policy configuration and customer approval required for each remote session
Assistance with Cell Type optimization and other software features
Software updates
Administrative Password reset support
*Offered for Vi-CELL BLU
Depend on us for a variety of services for your entire product lifecycle
Beckman Coulter Life Sciences provides support and service for your instrument through its entire lifecycle, from installation, preventive maintenance, qualification to repairs. Our Vi-CELL experts help keep you running at your peak.
Installation, Qualification and Warranty
Ensure your instrument's operational performance through a combination of professional installation, setup and configuration, user training and documentation
Repair and Support
Efficient response and turnaround times are important to minimizing downtime. A large field force, original spare parts and remote technology ensure a longer product life and maximum uptime
Installation
Factory-trained service engineers install your instrument according to performance specifications to fulfill requirements from day one

Compliance
Standardized service procedures, traceable controls and documentation for quality assurance

Maintenance
Avoid unexpected downtime and save money over the life of your instrument with flexible service plans




Training
On-site and online training options to quickly enable new users

BeckmanConnect Remote Support
Diagnose and troubleshoot issues in real-time, maximizing uptime and performance

Technical support
Certified experts are trained to identify, isolate and resolve technical issues over the phone

Technical Documents
Instruction manual, safety datasheet or certificate of analysis On-Demand. Find all of these and more in our Technical Documents Center
Plans and Benefit Descriptions
Warranty Period
(Year 1)
Post-Warranty Period
(Year 2+)
Plan Benefits
Standard Warranty
Start-Up Care
Comprehensive
Protective
Prevention Plus
Repair Coverage
(certified parts, labor, travel)
•
•
•
•
20% Discount
Response Time Guarantee2
•
2 Day
•
2 Day
•
3 Day
Annual Onsite Operator Training
•
•
•
Annual Health Check
•
•
•
Annual Preventive Maintenance
•
•
•
•
Unlimited Remote Technical Support
•
•
•
•
Software & Engineering Updates3
•
•
•
20% Discount
One-Time Relocation Support4
•
•
•
Advanced Onsite Operator Training (4-hours)
•
Onsite Application Support5
•
*Available Add-On Services
Installation Services and Training
•
BeckmanConnect Remote Connectivity1
•
•
•
•
•
Installation Qualification
•
•
Operational Qualification
•
•
•
•
Contact your Beckman Coulter sales or service representative for more information on features and eligible instruments.
Priority response guaranteed. Contact your local service representative for guaranteed response times based on your location.
Includes Category I & II MODs that are mandatory for corrective actions or important updates for ongoing product reliability and quality.
Includes proper de-installation and re-installation of equipment by factory-trained Beckman Field Service experts. Customer is responsible for logistic portion of relocation.
Beckman Coulter application scientist will provide basic onsite support, at customer request.