Quality Control in Biologic Cell Culture Applications
Due to the inherent complexity of protein therapeutics, a range of sophisticated tools is required to produce and characterize therapeutic molecules. Robust process controls and sample testing processes are central to achieving high batch success rates. Monitoring and maintaining robust cell health and protein quality are critical to scale from the lab to commercialization.
Cells as protein factories
Producing highly productive cell lines and optimized cell culture conditions requires an understanding of the contributions of many key variables: cell culture media, cell growth rates, cell viability, protein expression levels, and other quality attributes including size, aggregation status, glycosylation and stability. Appropriate analyzers are critical to reliable process monitoring and control.
Cell culture process development begins with cell line generation which typically consists of a common host cell such as HEK 293 or CHO cells, an expression or infection system and selection, followed by process and media optimization in small scale systems such as 96-well plates or bench-scale bioreactors.
Once conditions are optimized and defined, the process typically transitions to a scalability pilot study followed by preclinical toxicology studies and ultimately scale-up to manufacture at commercial volumes. At this stage, biological products are manufactured under current good manufacturing practices (cGMP). When the final cell culture process is established, companies move forward with the commercialization process which includes process characterization, scale-up, technology transfer and manufacturing process validation.
To meet volume demands, biopharmaceutical companies have built large-scale facilities with multiple 10,000 L (or even larger) cell culture bioreactors. Given the importance of product quality and batch consistency to patient health and safety, the bar for process and product characterization and control has risen steadily at all stages of manufacturing.
Operating parameters affect process performance and product quality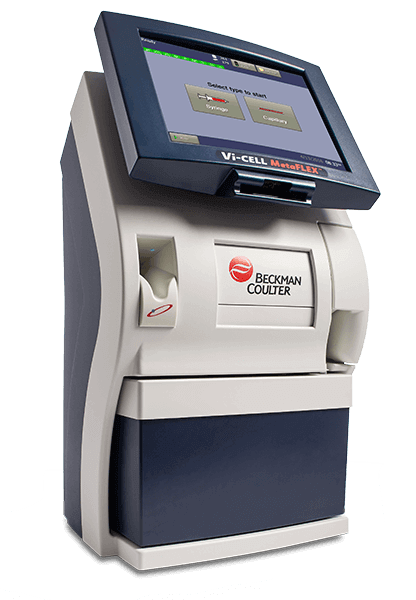 Optimizing cell culture conditions is essential to achieving optimal product quality and yield. Important physical and chemical environmental parameters include temperature, gas flow rate, agitation speeds, dissolved gasses, pH levels, osmolality, redox potential, and cellular metabolites. Biological indicators must be continuously measured to determine the physiological state of the culture including cell density and viability, a variety of intracellular and extra-cellular measurements such as NADH, LDH levels, mitochondrial activity and cell cycle analysis. Variations from optimal levels can have substantial effects on product quality and potency
The compact Vi-CELL MetaFLEX biochemistry analyzer accommodates micro to large-scale cell culture applications, delivering fast, accurate analysis of key parameters including pH, pO2, pCO2, glucose, lactate and electrolytes. The integrated quality management system automatically measures on three dedicated QC solutions, detecting and correcting any failures, and locking out any parameter that fails QC.
Quick intuitive testing
According to Lena Lee, Global Product Manager, Beckman Coulter, "In early stage research and process development, one of the key quality attributes is cell viability. The environment in which the cells are grown must be controlled and monitored. The Vi-CELL MetaFLEX delivers levels of pH accuracy that we know is critical to cell viability."
Designed to operate in excess of 22 hours daily and with a turnaround time of <60 seconds , the Vi-CELL MetaFLEX operates with an advanced sensor based on thick-film technology comprised of several layers of ceramic slabs, microelectrodes and membranes to effectively decrease both measuring time and the sample size (65 uL) required for analysis.
The instrument can store up to 2,000 results on-board and features an automated sampling arm to offer maximum sampling flexibility (syringe, tube, microfuge or Vi-CELL sample cup). The only consumables required are the sensor cassette and solution pack which include reagents, wash solutions, QC controls and waste collection.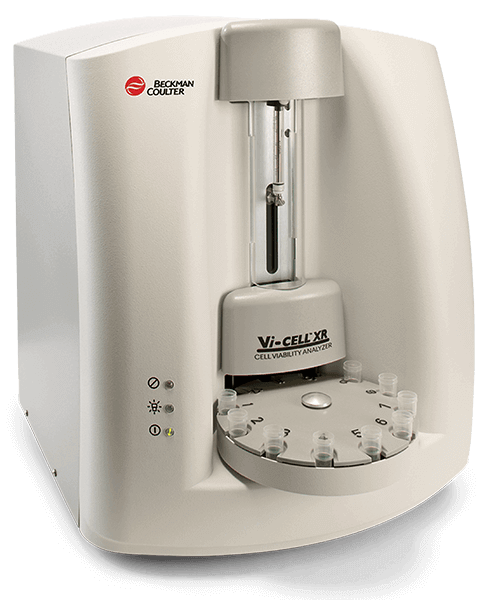 Viable and non-viable cell staining and quantitation in bioreactors must be accurate and reproducible. Cell density and viability are critical to the cell culture process and for determining culture physiology in response to operating conditions, estimation of growth rates, metabolite consumption and production, and cell-specific productivity. The most common method for measuring cell viability is the Trypan Blue exclusion method. The Vi-CELL XR monitors percent viability as well as total and viable cell density to quickly detect and investigate conditions that adversely affect cell viability. For the production of recombinant proteins where cells are routinely cultured at relatively high concentrations in a variety of bioreactors, separate processes can be launched with a single mouse click for each bioreactor being monitored. For the fastest access to non-biased results, the automated Vi-CELL cell analyzers incorporates a sample carousel for on the fly sample loading. Once loaded, the system aspirates the sample, mixes in the trypan blue, loads the sample into the chamber and records cell count/mL, percent viability and size distribution. This is followed by an automatic clean cycle prior to aspirating the next sample in the carousel. Total sample processing time is <2.5 minutes per sample.
With advanced data security, secure user sign-on, electronic signature capability, robust activity and sample logs, the Vi-CELL MetaFLEX and XR analyzers are built to seamlessly facilitate 21 CFR 11 compliance.
The value of certainty
Monitoring cell cultures with fast, robust and accurate instruments to measure relevant parameters is enhancing the development and optimization of cell culture processes. The Vi-CELL XR and Vi-CELL MetaFLEX analyzers combine the functionality of a variety of instruments used to monitor pH levels, cell culture gases, metabolites, cell counting and osmolality into a single unit. The Vi-CELL MetaFLEX is designed to be used with cell cultures of multiple cell lines – important for potentially reducing resources associated with automated sampling systems or conducting smaller-scale development assays.