The Breakthrough 'PanLeucoGating' (PLG) story from South Africa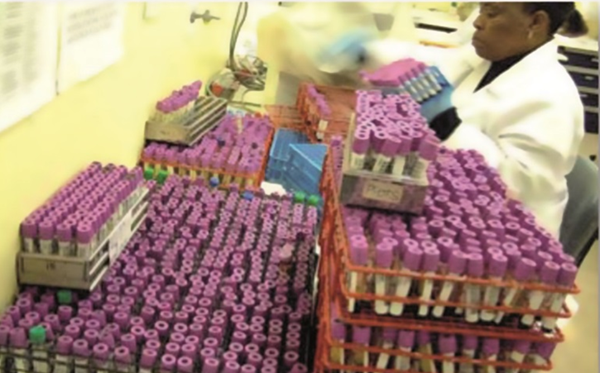 Monitoring CD4 lymphocyte counts is essential in providing critical information that impacts patient care. CD4 monitoring allows caregivers to know when the disease transforms and stage its progression so they can implement the most appropriate intervention.
Beckman Coulter has been providing cost effective solutions to monitor CD4 status in resource limited countries for several decades. The mounting HIV problem in these regions of the world has led to innovative solutions with a mission to deliver patient care.

An example of innovative solutions driven by need is the breakthrough 'PanLeucoGating' (PLG) story from South Africa. Developed by the University of the Witwatersrand, a leading South African research institute, PLG CD4 was adopted in response to the urgent need for simple, rapid, accurate, and low-cost CD4 results in primarily centralized labs that monitor large numbers of HIV patients. The benefits were clear: According to the South African National Health Laboratory Service (NHLS), large-scale use of PLG CD4 has the potential to reduce the cost of HIV/AIDS monitoring (5).

PLG CD4 was subsequently licensed to Beckman Coulter for manufacturing and worldwide distribution — with provision that the technology be priced affordably for resource limited countries. Beckman Coulter remains a proud partner to the NHLS. Today Beckman Coulter's legacy and passion for science and innovation to improve healthcare manifests itself within the CARES Initiative.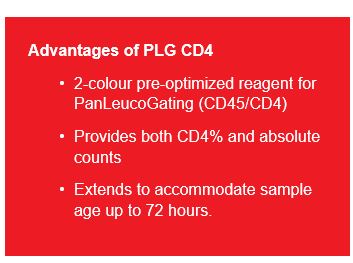 "With many years in the field, I saw the need for a HIV/AIDS test that´s both accurate and cost-effective. By applying scientific knowledge in a new way, we found it. And now, the PLG-CD4 test is bringing better care to millions of patients worldwide."
Affordable, Reliable Testing
By focusing on the most essential parameters for monitoring HIV therapies, PLG CD4 addresses cost, complexity, and the time previously required by labor-intensive processes to provide busy laboratories with an affordable, high-performance monitoring solution that also offers standardization and simplicity. Its efficient operation takes CD4 testing to new places (5).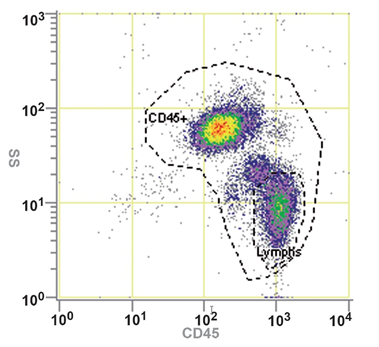 "The PLG 'Africa Gate' that identifies lymphocytes, monocytes, and granulocytes based on CD45 expression and cell complexity."
A sample plot from the peripheral blood of a normal donor is shown, depicting all white blood cells (CD45+), as well as a region to identify the lymphocyte (Lymphs) subpopulation for further analysis of CD4 cells. The name 'Africa Gate' stems from the form of the region that is used to identify all white blood cells.
AQUIOS PLG
This comprehensive suite of innovative products provides highly effective monitoring tools that can be taken closer to patients to accelerate time-to treatment.
Integrated fully automated sample preparation system - no sample preparation necessary, reducing operator exposure to biohazards.
72 h post draw testing window –percent & absolute CD4 values on aged patient specimens to support even your remote blood draw needs.
Simple, affordable testing - takes CD4 monitoring to new places.
Less than 35 minutes to %CD4 and absolute CD counts (1) – gives healthcare workers critical information while the patient is still on site.
From 20 to 150 tests per day – a flexible instrument that meets your workflow requirements in centralized and more remote healthcare facilities.
AQUIOS TETRA
In addition to basic CD4 testing, and following exactly the same Load & Go principle, AQUIOS CL offers additional options for advanced immunophenotyping:
T cells (CD45/CD4/CD8/CD3)
B- and NK cells (CD45/CD56+CD16/CD19/CD3)
*Photos courtesy of Professor D. Glencross
REQUEST ADDITIONAL INFORMATION