An Automated System Freeing Up Your Skilled Operators For Where You Need Them Most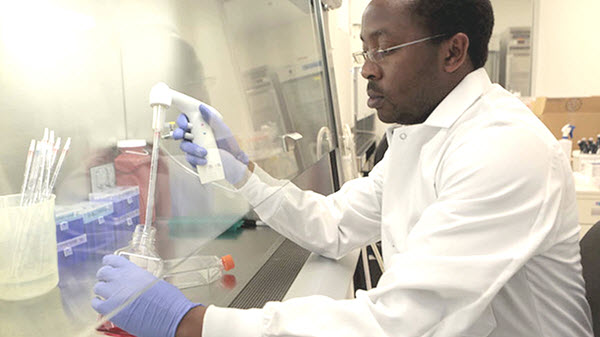 Many traditional flow-cytometry systems require either manual or semi-automated preparation of samples, manual creation of work lists, manual data review, and manual tabulation of numerical data. This cumbersome workflow can result in longer run times, more hands-on time, and require more experienced operators.
The AQUIOS CL system is an automated system that performs all of the preparatory steps leading to a test result, resulting in:
Shorter total elapsed time from start-up to shut down
Shorter time to first result from start-up
Shorter turnaround time
Fewer procedural steps
Less operator hands-on time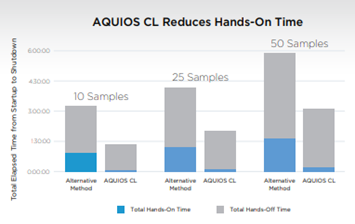 "AQUIOS CL Flow Cytometer is capable of more work in less time, allowing you to do the same."
With such a quick turn-around time, the AQUIOS CL Flow Cytometer is capable of more work in less time, allowing you to do the same. The AQUIOS CL Flow Cytometer has the capacity to do the same work in less than half the time of a traditional Flow Cytometer combination like the FC500 and TQ Prep system.1 Assuming 50 samples per workday over the period of one year, the AQUIOS CL Flow Cytometer can save a lab hundreds of hours of valuable time each year.
AQUIOS CL Flow Cytometer
The AQUIOS CL Load & Go flow cytometer is an all-in-one solution that incorporates automated loading, sample preparation, reagent management, barcode scanning, data analysis, and full LIS connectivity.
Reducing potential user error by eliminating numerous manual steps to set up and run.
Enhanced productivity with high-throughput performance by eliminating the least efficient features of existing systems.
Learn in as little as one day for skilled flow cytometrists with computer based training videos.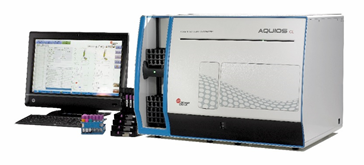 *Photos courtesy of Dr. Charles Kiyaga
REFERENCES
1. London Health Sciences Centre (LHSC) Workflow Comparison Study with the Aquios CL Flow Cytometer
2. PLG: B43671: System Guide_PLG Application for the AQUIOS CL Flow Cytometer
REQUEST ADDITIONAL INFORMATION