Beckman Coulter CARES Award Honors HIV/AIDS Charity Dedicated To People Living In 'Abject Poverty'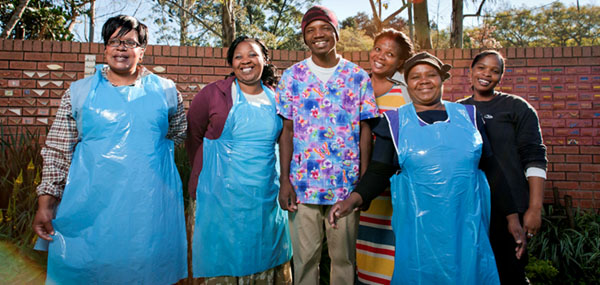 The annual Beckman Coulter CARES Award has honored an HIV/AIDS charity that cares for some of the poorest and disadvantaged people in Africa. It has recognised the work of the Hillcrest AIDS Centre Trust (HACT) with a grant of $5500 USD. The funding was provided by Beckman Coulter Life Sciences through the Beckman Coulter Foundation.
In its first year, the award focused on the dedication of ordinary people in Africa, one of the areas in the world most affected by HIV/AIDS. The award, which goes global in 2018, has two winners – an individual (link will be added here to Evah's section on the CARES landing page ) and an organization.
CARES supports the UNAIDS 90-90-90 target to ensure that by the year 2020, 90% of people living with HIV will know their status, 90% of those with diagnosed HIV infection will receive sustained antiretroviral therapy, and 90% of all people receiving antiretroviral therapy will have viral suppression.

The work of a number of charities were first submitted to the independent panel of HIV/AIDS experts appointed by the CARES Award before recognizing the 'unconditional love and hope' provided by Hillcrest.
"Thanks to the generous support of our sponsors and donors such as the Beckman Coulter Foundation, we are able to save lives and help create a brighter future for South Africans who have been impacted by HIV/AIDS," said Candace Davidson, the charity CEO.
The main part of the grant is being used for HACT's 24-bed Respite Unit. This provides life-saving medical care and treatment to adults and children suffering from late stage AIDS and or cancer. The remaining $500 of the grant is being used to develop the support skills of the staff working in the unit.
As Claire Hodkinson, the Hillcrest head of fundraising explained: "Hillcrest cares for the poorest of the poor in South Africa, and those that are very sick and dying.
"It takes an extraordinary individual to provide care in this way, which is why every member of our small team has been hand-picked to ensure they have the right mix of skills and dedication."
'Othandweni' means 'a place of love', and there could not be a more fitting name for the respite unit. It is a 24-bed facility offering around-the-clock care to people in advanced stages of AIDS. Most patients are bed-ridden and suffering from opportunistic infections such as meningitis, TB and pneumonia. The unit also takes palliative cancer patients who have no one to care for them at home. "For those in the final stages of AIDS or have terminal cancer the unit provides an environment where these patients can die peacefully and with respect," added Claire.
Located in the semi-rural Valley of a Thousand Hills, South Africa, it was founded in 1990 by the Hillcrest Methodist Church to provide palliative care to people often living in 'abject poverty'. It serves an African community where HIV is currently estimated to be as high as 40%, with the region said to be one of the global epicenters of the disease.
"For those in the final stages of AIDS or have terminal cancer the unit provides an environment where these patients can die peacefully and with respect,"
Hillcrest was one of the first South African non-governmental organizations to respond specifically to HIV/AIDS, focusing on saving and changing lives. However, its work does not only involve caring for those with HIV/AIDs. The charity has an active prevention and education programme and also aims to support the local community with training to help them gain economic empowerment.
"The people at Hillcrest AIDS Centre Trust act as a family to anyone who comes here or works here. I am proud to be part of this family because without them who knows what would have happened to me," explains one HACT Respite Unit Patient.
"We often get asked how we can do this work but it is actually a privilege to be able to nurse patients back from the brink of death and witness them go on to live fulfilled lives with their families. I would not choose to work anywhere else," explains Julie Hornby, HACT's Nursing Services Manager.
For more information on HACT's work, see www.hillaids.org.za or their Facebook page – Hillcrest AIDS
*Photos courtesy of Hillcrest AIDS Centre Trust
How to Apply
To receive the full CARES Award Application Pack 2020 please complete the form to submit your contact details. You can then apply online.